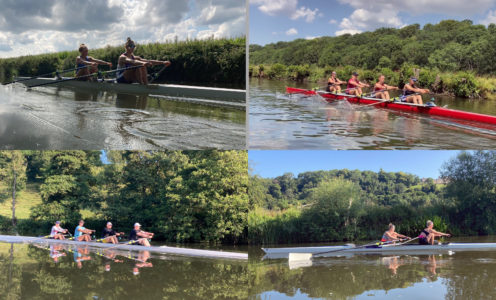 The University of Bath Rowing Club enjoyed its best-ever Henley Royal Regatta with both the men's and women's quadruple sculls crews reaching the semi-finals of their events and all the crews featuring in the last eight.
Ben Smeeton, Jamie Gare, Angus Pollock and Joe Stobbs made up the men's quad that beat Oxford University Lightweight Rowing Club by two lengths on Thursday and then overcame a Hinksey Sculling School & Exeter University crew by almost double that margin on Friday.
That put them into the semi-finals of the Prince of Wales Challenge Cup, where they lost out to eventual runners-up Twickenham Rowing Club & Queen's University, Belfast.
The Princess Grace Challenge Cup saw Crew Bath duo Rachel Borrows and Phoebe Hayden team up with University of Bath graduate Laura Macro and Agecroft RC's Rosa Thomson to beat The Tideway Scullers' School in their opening race before being edged out of the final by a Thames Rowing Club & Neptune Rowing Club, Ireland crew.
Becky Wilde and Amelia Hempleman-Adams, who won the Championship double sculls title at last month's Henley Women's Regatta to book their place in the Stonor Challenge Trophy, were comfortable winners against Walbrook Rowing Club in the first round before losing out to Dutch international duo Martine Veldhuis and Nika Vos of Hollandia Roeiclub.
Sophia Stilling and Imy Bantick raced in the Hambleden Pairs Challenge Cup, where they went out to a crew from Lea RC.