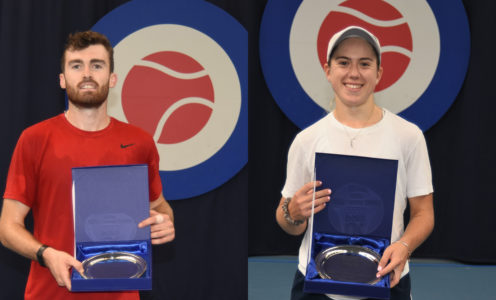 Team Bath Tennis player Giles Hussey enjoyed home success and there was a third consecutive victory for Sonay Kartal when the University of Bath hosted Round 7 of the 2021 UK Pro League tennis tournament.
An exciting week of televised competition on the indoor courts at the Team Bath Sports Training Village ended with Hussey beating Round 6 winner Billy Harris 6-3 6-4 in the men's final.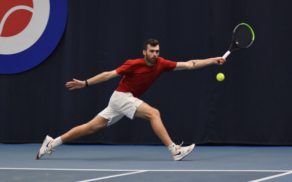 Hussey, from Swindon and a former Millfield School student, has recently returned to the UK after playing college tennis in Tennessee and is coached by Ian MacDonald at Team Bath, who hosted the seven-day UK Pro League competition featuring 24 of the country's top young players.
The women's final saw Kartal follow up her victories in Rounds 5 and 6 by beating Emma Wilson 6-0 6-3.
The first stage of the tournament was played in a round-robin format before placings were determined during an action-packed weekend.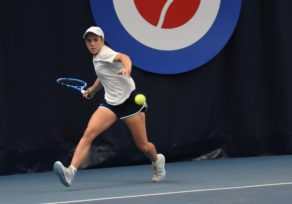 Sean Hodkin took third place in the men's event after beating Dan Cox 6-4 7-5, while Team Bath's Luke Johnson was fifth overall following his 6-4 6-3 victory against Ewan Moore.
Alice Gillan sealed third place in the women's rankings with a 6-4 6-1 win over Emily Appleton and Freya Christie placed fifth after beating Katarina Stresnakova 6-2 7-6(5).
University of Bath graduate Ben Jones – one of 11 Team Bath players who took part – had been in fine form during the group stages, winning all three of his Pool A matches, but withdrew before the knockout rounds.
The UK Pro League, which was won overall by Liam Broady and US Open champion Emma Raducanu in 2020, has two more competitions to go before the top-ranked players meet in Finals Week during early November. Visit ukproleague.com to find out more.