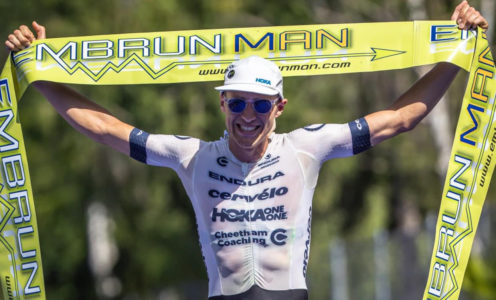 University of Bath sporting scholar Leon Chevalier capped a stunning season by setting a course record as he beat a championship field to win the Ironman Mallorca event in Spain.
The Chemical Engineering Masters student, who is supported by a Santander Scholarship, was one of only two athletes to break the eight-hour barrier for the 2.4-mile swim, 112-mile bike ride and marathon 26-mile run as he crossed the line in 7:59.03 to finish 56 seconds clear of his nearest rival.
That follows Chevalier's course record and victory at The Embrunman in France, runners-up spots at the Alpe d'Huez and TriathLong de Royan competitions, and third-placed finish at Ironman UK.
View this post on Instagram
Those results mean that Chevalier, who trains with the British Triathlon Bath National Pathway Centre and represents France, has qualified for the 2021 and 2022 Ironman World Championships – both taking place next year – and is 22nd in the PTO (Pro Triathletes) men's world rankings having started the year 420th.
"It's been a hectic summer and one heck of a season," said Chevalier, who is now back in Bath to pursue his academic work. "I'm looking forward to a little time off now before getting ready for next year."