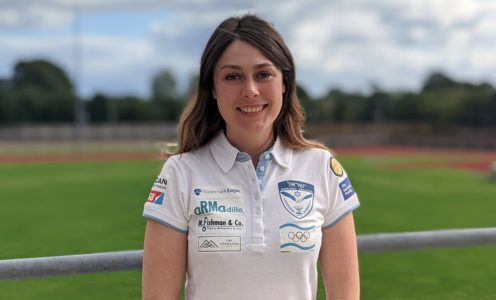 After a busy and productive summer of training at Team Bath, Israeli skeleton athlete Georgie Cohen is going into the Beijing 2022 season chasing both history for her country and fulfilment for her family's Olympic legacy.
Cohen, who had full-time athlete access to the UK's only outdoor push-track and other high-performance facilities at the Sports Training Village during the summer with the Israeli Bobsled & Skeleton Team's support, is bidding to become the first female skeleton athlete from her country to qualify for the Winter Olympic Games.
Adding to her motivation is the fact her grandfather, Maurice Cohen, was unable to achieve his own Olympic dream after being prevented from competing at the 1936 Summer Games in Berlin.
"I've got a very exciting season ahead and I feel very positive after a good summer of training at Team Bath," said Cohen, who began a busy winter of racing last weekend on the North American Cup circuit at Whistler, Canada.
"It's been a real privilege to have access to this special facility, they are very hard to come across internationally, and it's going to make a big difference to my sliding this winter.
"I've been able to train on the push track, which is one of a kind and has really helped me work on my start which is so important in skeleton. I've also had access to coaching, the gym, the sprint track, nutritional support and all the things that go into building a really good performance during the winter season.
View this post on Instagram
"If I am able to qualify for Beijing it would be a huge accomplishment for me and my family. My grandfather was born to a Jewish family from Iraq who emigrated to India, and he represented India in both hockey and water polo.
"He captained the water polo team that qualified for the 1936 Olympics in Berlin but was asked by his team to stay behind as they feared for his safety as a Jewish person. If I'm able to go out and make these Olympics in 2022, it will be honouring his legacy."
Cohen, who is from Cambridge, has been competing internationally for Israel since 2018 having first got into the sport when her dad took up bobsleigh at the age of 50.
"Me and my brother thought it was a mid-life crisis but he was actually very good as an amateur bobsledder," she explained. "I went to watch a few times and on one occasion was invited along to a skeleton camp with the British Forces team. I fell in love with the sport after my first run – the adrenalin rush, the speed, the excitement, the camaraderie of the team around you and being around the mountains.
"After that I was told I could go back for one week of sliding a year as their civvy ringer if they had a spare sled. A few years later, after being on the hamster wheel in London, I felt I was ready for a change so I decided to emigrate to Israel. My passion for skeleton was still growing and everything just came together at once."
She became the first Israeli female skeleton athlete to compete at the IBSF World Championships in 2019 and is determined to make more history in February, with the two-month qualification period for Beijing now under way.
The University of Bath-based British Bobsleigh & Skeleton Association (BBSA) are providing additional support for Cohen during the season as a small-nations athlete on the international circuit.