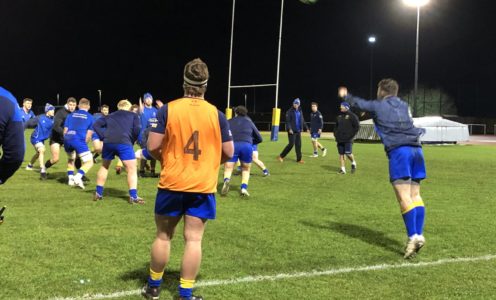 Team Bath were out-muscled and out-fought in an exhausting 33-10 home loss to Leeds Beckett in BUCS Super Rugby at the Sports Training Village on Wednesday.
"The boys know what went wrong tonight and they're disappointed," said coach Aaron James who pointed up the home team's costly error count.
It was a tough night for the students, sponsored by Rengen, as the Northern visitors maintained their unbeaten stretch against Bath, overcoming the bitter and windy conditions to secure the win.
Wednesday's result means the last victory Team Bath recorded over Beckett came in October 2018, a thriller at Bath's Recreation Ground which saw Team Bath win 29-27 in the Rengen Anniversary Game. Since then Beckett have had the upper hand with two wins in the 2019-20 season ,one in the second half of the 2018-19 season and another on the opening day of this campaign.
James, Head of Rugby at the University of Bath, reflected: "We were very disappointed with the mistakes and the penalty count. You can't win a game if you make that many mistakes. The boys know what went wrong tonight and they're disappointed.
"Leeds are a pretty physical side and do quite well technically. We didn't fire and they didn't let us. We made mistakes that were in our control."
With the wind causing a constant menace , both teams came out of the gates swinging and it was Leeds who scored first following a rumbling maul from a lineout inside the Bath 22. The conversion was missed.
Team Bath struck back less than five minutes later, number 8 Harry Breeze finishing off a combined forwards maul effort to level the score.
However, discipline continued to cost Bath dearly as the half played out and repeated offences gifted the visitors the chance to restore their lead through an Olly Toomey penalty.
Beckett's set-piece pressure at both scrum and lineout garnered them a large portion of the territory, possession and lineout turnover and Team Bath eventually cracked as the visitors stole a lineout close to their line and stormed over with a pick and drive.
A successful conversion pushed the gap to 15-5 and was followed by a cracking 40m drop goal from Toomey. Just before the break, Bath flanker Tom Williams was sin-binned and Leeds took the opportunity to stretch their half-time lead to 25-5.
With Bath still down to 14 men, a well-drilled backs move set up Leeds winger Api Bavadra to finish out wide for the game's first running try shortly after the restart and the hosts found themselves 25 points adrift.
The remainder of a low-scoring second half descended into a tough physical battle as both teams wrestled for control. The wind dropped slightly, denying Team Bath the reverse aerial advantage to that gained by the visitors in the first half.
As the game moved into the later stages, the hosts managed to sustain attacking pressure and Leeds lock Jordan Brown was sin-binned after disrupting a clear try-scoring opportunity from a lineout.
The visitors' line was finally breached with a minute to go as replacement Archie Maggs trundled over off the back of a lineout but Leeds had the last word as Toomey slotted over a penalty kick to complete the scoring.
Team Bath are at home for a third successive week, and the final time before Christmas, when they welcome old rivals Loughborough to the Sports Training Village on Wednesday 8th December. Kick-off is 6.30pm and admission to spectators is free.
Match stats
Team Bath starting XV: 1 George Cave (c), 2 Duncan Hood, 3 Josh Cilia, 4 Erik Bryant, 5 Tom Black, 6 Ted Johnson, 7 Tom Williams, 8 Harry Breeze; 9 George Wootten, 10 Bevan Howells, 11 Alfie Garside, 12 Alex Clayton, 13 Rahul Patel, 14 Cal Barrett, 15 Iwan Price Thomas. Replacements: 16 John Taylor, 17 Will Prior, 18 Archie Maggs, 19 Paddy Ashdown, 20 Xavier Hastings, 21 Ellis Horgan, 22 Will Kennaugh, 23 Sam Mercer.
Tries: Breeze, Maggs.
Leeds Beckett starting XV: 1 Connor Hancock, 2 Madison Hunting, 3 Rhys Charalambous, 4 Jordan Brown, 5 Harry Simmonds, 6 Micheal Etete, 7 James Gulliver (c), 8 Nick Brown; 9 Spencer Cope, 10 Olly Toomey, 11 Jake Morris, 12 Tom Bullough, 13 Gareth Stephens, 14 Api Bavadra, 15 Spencer Owen. Replacements: 16 Simon Ridgeway, 17 Emi Llincuta, 18 Callum Hancock, 19 Brandon Staples, 20 Josh Hadland, 21 Henry McNab, 22 Gethin Rossier, 23 Will Rawlinson.
Tries: Etete, 30', 40', 48' Bavadra.
Conversions: Toomey, Toomey.
Penalties: Toomey, Toomey.
Referee: Adam Wookey.
Assistant referees: Daniel Evans, Brian Ravenhill.