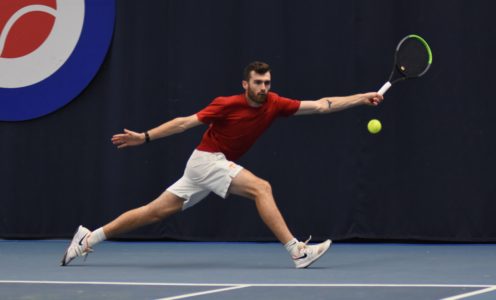 The University of Bath's indoor tennis courts is playing host to senior international tennis for the first time since the Federation Cup of 2019 as the GB Pro Series for men and women starts at the Sports Training Village this weekend, running through to Saturday 15th January.
"It will be fantastic to host tennis at this level once more", said Barry Scollo, Team Bath Director of Tennis. "These events are part of the ITF men's and women's World Tour Calendar and it's an honour to be a host venue."
All eight courts will be in action for the $25k level events during the opening days. Qualifying fires up on Sunday 9th and Monday 10th, followed by Main Draw action on Tuesday. Finals will be on Saturday 15th.
Players from as far apart as Taipei and the USA are competing along with a strong European entry including Germany, Denmark, Romania, Slovakia, the Netherlands and France.
Team Bath will field a host of players across the men's and women's singles and doubles. Alicia Barnett looks set to appear in the main draw for singles and doubles with Toby Samuel, fresh from his British Tour Masters victory, gaining a wild card into the main men's singles draw.
Giles Hussey, Ben Jones, Holly Hutchinson, Dan Little and Adam Jones are set to take part in the qualifying for both singles and doubles.
The ITF will run live scores throughout the event and tennis fans can keep in touch with progress here: https://live.itftennis.com/en/live-scores/