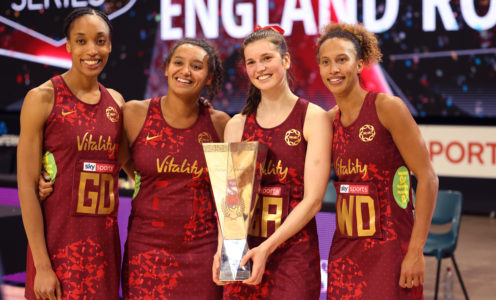 Team Bath Netball star Serena Guthrie says this week's Quad Series against Australia, New Zealand and South Africa will play a crucial part in England's preparations for this summer's Commonwealth Games title defence.
The tournament is taking place for the first time since 2019 and will see four of the five top-ranked teams in world netball battle it out at London's Copper Box Arena from January 15-19.
The Vitality Roses will once again be captained by Guthrie, one of four Team Bath Superleague stars in the England squad along with Imogen Allison, Sophie Drakeford-Lewis and Layla Guscoth. Lining up for South Africa is defender Phumza Maweni, the Haines Watts-sponsored Blue & Gold's newest overseas import for the 2022 season.
Guthrie led England to Test series victories over New Zealand and Jamaica in October and December respectively, and is keen to keep the momentum building through to the Birmingham 2022 Commonwealth Games which start in July.
"I'm really excited, it should be a good start to the year," she said. "It's been a few years since we've been able to take part in a Quad Series because of Covid, so it's going to be really important for us to get some good performances in and play against all those different styles of netball that we haven't necessarily faced in a long time.
"We are building every single time we step out as a group and I do feel we are getting stronger and stronger. Hopefully we can keep that upward trajectory going into the Quad Series and our Commonwealth Games prep."
It will be a first experience of Quad Series netball for wing-defence Allison, who said: "It's going to be such a good experience to play Australia, New Zealand and South Africa back to back and, looking ahead to the Commonwealth Games, a great opportunity to learn about the other teams and ourselves. I'm really excited to be selected, it's always an honour to put on the red dress."
Goal-attack Drakeford-Lewis – who, like Guthrie, Allison and defender Guscoth, helped England to their pre-Christmas series victories – added: "The Jamaica series was a great opportunity to go up against their style of play and we came away win a Test series win on home soil, which hasn't been done for a while. Now we have another chance to take on the best in the world in preparation for this summer."
England get the Quad Series under way on Saturday 15th against South Africa (2pm), then face New Zealand on Sunday 16th (4.15pm) before completing the round-robin stage against Australia on Tuesday 18th (7.30pm). The two other countries face each other in a second match on those days before the ranking fixtures (3rd v 4th, 1st v 2nd) bring the Series to a conclusion on Wednesday 19th.
Team Bath's players then return to the Rengen-backed Superleague squad to begin final preparations for the 2022 season, which gets under way with a Season Opener double-header at Resorts World Birmingham against Strathclyde Sirens on Saturday 5th February and London Pulse on Sunday 6th February.
The first chance to watch the Blue & Gold in action at the Team Bath Arena is on Friday 18th February when they host Surrey Storm (7.30pm). Tickets for that game, and the seven other home Superleague matches, are on sale now – click here for further details.