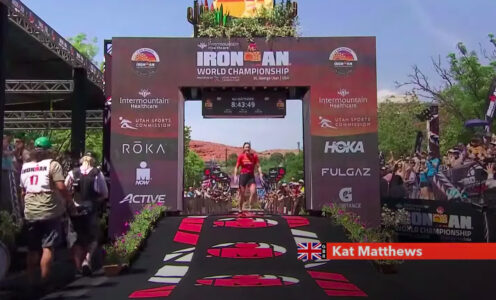 Kat Matthews, who receives physio and sport science support at the University of Bath, produced a magnificent performance on her IRONMAN World Championship debut to win a superb silver in Utah.
Chemical Engineering Masters student Leon Chevalier, supported by a Santander Sporting Scholarship, also earned an excellent top-six finish in the men's race at the rescheduled 2021 championships in the United States.
British Army elite athlete Matthews, who accesses the Talented Athlete Scholarship Scheme (TASS) at the University, had competed in just four full-distance IRONMAN events – consisting of a 2.4-mile swim, 112-mile bike ride and 26.2-mile run – going into Saturday's race.
She showed her quality, though, by being the only athlete to stick with Swiss superstar Daniela Ryf for much of the bike ride. Ryf went on to win her fifth World title but Matthews held off defending champion Anne Haug of Germany in the marathon to secure second spot in a time of 8:43:49.
Talking to Ironman.com after the race, Matthews said: "I cannot understand how my brain and body were able to push like that. My first World Champs to come second to Daniela Ryf? I'm happy. Honestly, I think I paced it perfectly."
Fenella Langridge, who accesses triathlon training sessions at the University of Bath, was eighth overall in the women's race in 9:09:40.
The men's race saw Chevalier, who trains with the University's triathlon club, continue his fantastic form from last year as he placed sixth overall in 8:01:41 after producing the seventh-fastest marathon time of 2:46:23.
View this post on Instagram
While she is in the UK Matthews receives strength and conditioning training, physiotherapy and sports psychology support at the Team Bath Sports Training Village through TASS, a Government-backed scheme which has had a Delivery Site at the University since 2004.
Top picture: screengrab from official IRONMAN YouTube coverage of the World Championships – click here to watch in full.