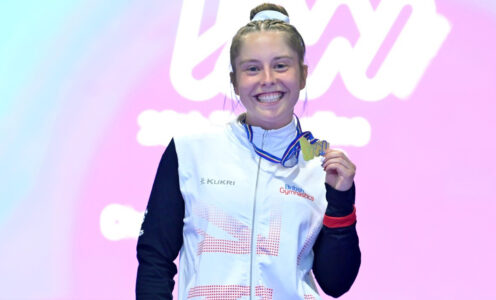 University of Bath graduate Kirsty Way won double gold when she represented British Gymnastics at the 2022 Trampoline, Tumbling & DMT European Championships in Rimini, Italy.
Way, who still receives physio and sport science support at the University through the Talented Athlete Scholarship Scheme (TASS), topped the qualification rankings and then scored 27.200 in the women's double-mini trampoline (DMT) final to secure the second individual European title of her career.
"I can't believe it," said Way, who studied Sport & Exercise Science and was supported by a King Sporting Scholarship. "I've been European champion before but I wasn't coming into this competition expecting to do it again. I had no expectations. I wanted to come here and have fun, and I've come away with a gold medal!"
That success on Sunday came two days after Way had secured gold in the women's DMT team event by scoring a perfect five points with GB's last pass of the competition to pip Portugal to the title.
"I think that's probably the most nervous I've been in a team final," said Way, who was joined in the successful team by Kim Beattie, Beth Williamson and Maddi Tarrant. "I just knew I had to land it and there was a chance of a gold medal being on our shoulders. The whole team smashed it."
Click here to read full day-by-day round-ups of the European Championships on the British Gymnastics website.