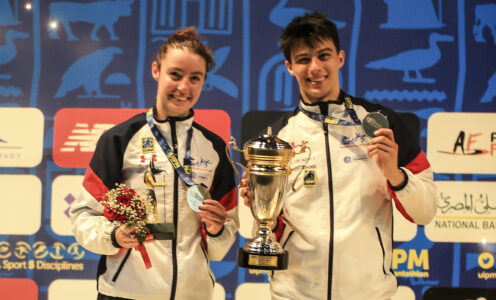 University of Bath alumni Joe Choong and Jess Varley added mixed relay silver to the gold medals they won on Saturday as Pentathlon GB concluded the UIPM 2022 Pentathlon World Championships in fine style in Alexandria, Egypt.
Choong, who won the individual men's title, and Varley, part of the British trio that won team gold in the women's final, teamed up to finish runners-up to runaway leaders Woongtae Jun and Sunwoo Kim of South Korea on the last day of a busy week of competition.
Varley said: "We're really pleased to put it all together today. We were a little bit tired and got off to a slow start in the fencing especially, so it's great to come away with a medal."
Choong added: "I'm pleased that we've done it but I'm also pleased that the competition is done now!"
It was a fourth medal of the season for Choong, who also won World Cup gold and silver, while World Cup Final silver-medallist Varley – who teamed up with Olivia Green and Charlie Follett to claim the women's team title on Saturday – now has six medals on the international stage in 2022.
The next major competition is the 2022 European Championships, taking place in the Hungarian city of Székesfehérvár from 14-18 September.