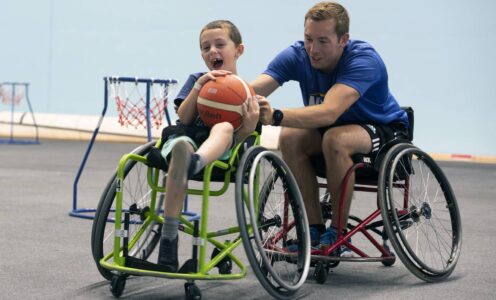 Young people under the care of Bristol Children's Hospital got to try out a wide range of sports including skeleton, rowing, climbing and archery when the first-ever Make a Move! event took place at the Team Bath Sports Training Village on Saturday.
Olympic Champion Amy Williams and Paralympic medallists Dimitri Coutya, Andy Lewis and Stephanie Millward were among the inspirational sports stars who helped the youngsters and their families get active during a fun-packed day.
Other activities included athletics, badminton, ball sports, boccia, cricket, dance, frame running, mini golf, table tennis, tennis and volleyball, while there were also bikes and trikes plus a soft play area in the sports hall.
The event was created by Bristol Children's Hospital with funding from its dedicated charity, The Grand Appeal. Make a Move! encourages those undergoing treatment for cancer and benign haematological conditions under the care of the children's hospital and the South West to adopt a healthier and more active lifestyle, helping to combat the physical and mental side effects caused by these conditions and their treatment.
Sarah Cowan, Senior Staff Nurse and Co-Project Lead for Make a Move!, said: "Make a Move! is about patients and their families coming together for a day of activity and fun! It's also an opportunity to reunite with healthcare professionals who have supported them throughout their treatment and beyond, and to meet up with other patients and families."
The Grand Appeal is the official Bristol Children's Hospital Charity and provides support through family accommodation, medical research, music, play and art therapy, life-saving equipment and art enhancement. To support or find out more, visit https://www.grandappeal.org.uk/
Find out more about the Make a Move! event by visiting https://www.grandappeal.org.uk/make-a-move/