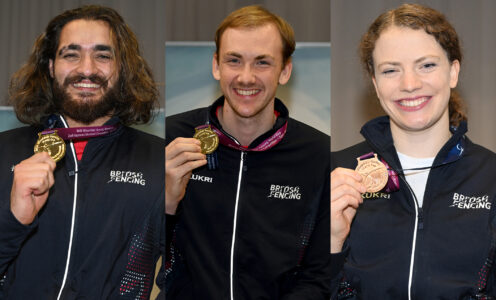 GB wheelchair fencers who train at the University of Bath warmed up for next week's European Championships by winning five medals, three of them gold, at the IWAS Fencing World Cup in Eger, Hungary.
Paralympic champion Piers Gilliver added two more titles to his growing collection by winning the Category A epee and sabre events. He beat training partner and fellow Tokyo 2020 medallist Oliver Lam-Watson 15-8 in the last 16 on his way to the epee final, where he overcame Italy's Emanuele Lambertini 15-9.
The route to sabre success proved more hard-fought but Gilliver came out on top 15-13 in both his semi-final and the final against three-time Paralympic medallist Richard Osvath, who was competing on home soil.
Fellow World Champion Dimitri Coutya also took top spot in the Category B foil competition, only conceding 17 hits in his four knockout matches – including a 15-0 victory in the last 16 – as he secured gold with a 15-7 win over France's Maxime Valet.
Gemma Collis, who does some of her training at the University, won bronze in her Category A epee event, only being denied a place in the final by a 15-14 defeat to Poland's Marta Fidrych. Collis also placed third overall in the Category A sabre.
Next up for the athletes on the EIS Wheelchair Fencing Programme, coached by Peter Rome at the Team Bath Sports Training Village, is the European Championships which run from 29th November to 4th December in Warsaw, Poland.