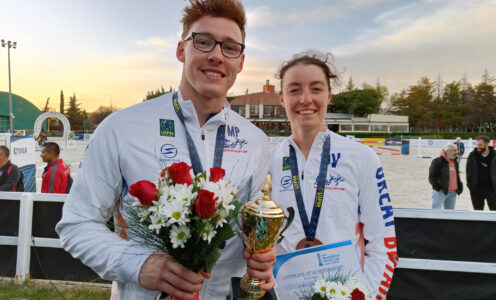 University of Bath alumni Myles Pillage and Jess Varley teamed up to win mixed relay bronze for Pentathlon GB at the second UIPM Modern Pentathlon World Cup of the season in Ankara, Turkey.
Pillage, who studied Biochemistry, and Natural Sciences graduate Varley were eighth going into the laser run after clocking the fastest swim of the day following some unfortunate penalties in the ride and difficulties in the fencing.
Varley held that position before, inspired by a sub-10 second shoot, Pillage produced a sprint finish to soar through the field and secure a bronze-medal finish.
Both athletes had competed in individual finals the day before, with Varley placing 10th in the women's competition and Pillage 13th in his first men's final in the 90-minute format.
Kerenza Bryson was the highest-ranked Brit, placing fifth in the women's final after some fine shooting in the laser run, while Sports Performance student Emma Whitaker finished one place ahead of team-mate Olivia Green in 13th.
Olympic and World Champion Joe Choong had to settle for 17th place in the men's final after a disqualification in the opening riding discipline put him out of medal contention.
Pentathlon GB's attention turns to Budapest, where World Cup 3 will get underway in just a week's time (25-30 April).
The 2023 season is set to be a busy one for the British squad, with the highlight being a home World Championships taking place at the Team Bath Sports Training Village from 19-28 August.