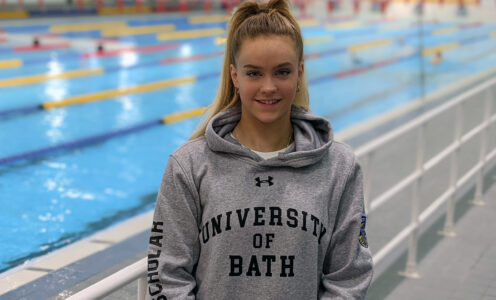 University of Bath sporting scholar Kate Shortman got her international season off to a strong start by winning bronze at the World Aquatics Artistic Swimming World Cup in Montpellier, France.
Olympian Shortman, who is supported by a Bill Whiteley Scholarship, and partner Isabelle Thorpe showcased the work they have put into their new Women's Free Duet routine by earning a high execution mark of 238.49 to comfortably place on the podium with an overall score of 324.39.
The duo were also sixth in a strong Women's Tech Duet competition with a score of 242.30 and Shortman placed fourth in the Women's Technical Solo after scoring 242.10.
"We are really happy with how the competition went as it was the first of the season," said Shortman, who studies International Management and Modern Languages (French). "It's great to see that the new rule changes are working well for us, and it's making things more objective, which is a real rebranding for the sport. We're really excited for what the future holds for us as a duet."
Shortman and Thorpe are now working towards the European Games in June and July's World Championships in Japan.