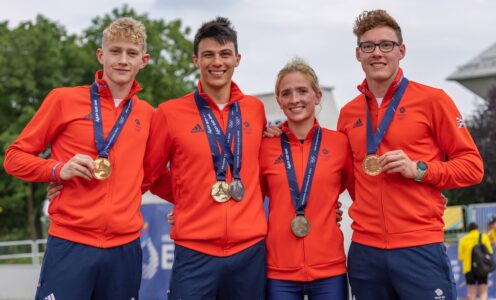 University of Bath-based Pentathlon GB athletes are heading home from the 2023 European Games in Krakow, Poland with team gold, a silver medal, three bronze and two Paris 2024 Olympic Games quota places.
Olympic and World Champion Joe Choong narrowly missed out on adding the continental men's title to his collection, crossing the finish line just three seconds behind Italy's Giorgio Malan, but a strong sprint finish ensured he pipped Hungary's Csaba Bohm to the silver medal.
With team-mate Myles Pillage just off the podium in fourth and University of Bath Sport Management and Coaching student Charlie Brown placing an impressive 11th, it meant the British men won team gold.
Choong also collected one of the eight Olympic quota places up for grabs, as had Olivia Green earlier in the day after she won a brilliant bronze in the women's final – the first individual international medal of her career.
Alice Sotero was a runaway winner, completing the first half of an Italian title double, but University of Bath alumna Green was just a second behind runner-up Laura Heredia of Spain after an impressive run-shoot.
Kerenza Bryson placed sixth and University of Bath sporting scholar Emma Whitaker was 17th, meaning the British trio finished just outside the medals in the team competition.
Thursday's mixed relay final had seen Sam Curry and Jess Varley perform consistently throughout the day to win bronze for Team GB.
Those results meant that University of Bath-associated athletes finished the European Games with nine medals between them, with Bill Whiteley Sporting Scholar Kate Shortman winning Women's Duet bronze with Izzy Thorpe in artistic swimming and graduate Amy Wilson Hardy helping Team GB win women's rugby 7s gold and secure a place at next summer's Olympic Games.
Pictured top (from left): Charlie Brown, Joe Choong, Olivia Green and Myles Pillage with their medals. PICTURE CREDIT: Team GB / Sam Mellish