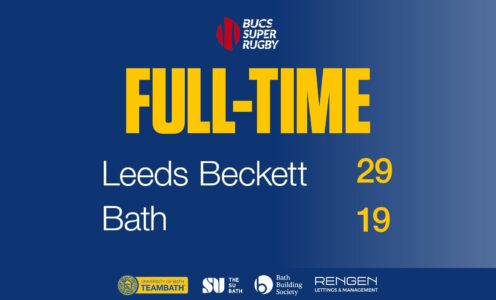 University of Bath men's 1st XV will go into their Anniversary Game fixture looking for a big crowd to roar them to a first win of the 2023-24 BUCS Super Rugby season after suffering a frustrating 29-19 defeat at Leeds Beckett.
The Bath Building Society-sponsored side, making their third long away trip in as many weeks, were right in an entertaining contest throughout before a try two minutes from time took the game out of their reach.
Next up for Bath is their first 'home' game and the annual highlight of their season – the Anniversary Game at The Rec, city-centre home of Bath Rugby. Sponsored by Colour Studios and Dragon Signs, the big match – which this year is against Cardiff Met – is taking place on Wednesday 18th October (6.30pm kick-off) and free tickets are available by clicking here.
Bath welcomed back a host of Bath Rugby Academy players who have been competing in the Premiership Rugby Cup over the past few weeks, including co-captain Tom Cowan who was one of seven changes to the visiting pack.
An exciting first half saw the visitors concede an early converted try before closing the gap to 7-5 when, after Beckett were reduced to 14 men for a deliberate knock-on, the resulting penalty was kicked to the corner and Bath scored from a lineout drive.
Beckett regained the lead five minutes later, despite their numerical disadvantage, but Bath were able to notch a converted try in the closing seconds to make it 12-12 at half-time.
A penalty restored Beckett's advantage but Bath, who are also supported by Rengen, went ahead for the first time in the 50th minute with a converted try, only for the hosts to respond in kind and lead 22-19 with 20 minutes remaining.
The next try would likely prove decisive and it went to Beckett in the closing stages, the conversion sealing a 29-19 victory.
University of Bath starting XV: 1 Scott Kirk, 2 Max Pearce, 3 Billy Sela, 4 Eddie Erskine, 5 Josh Dingley, 6 Jack Bennett, 7 Tom Cowan (cc), 8 Mackenzie Graham; 9 Elis Horgan, 10 Iwan Price-Thomas, 11 Byron Lloyd-Gilmour, 12 Ludo Kolade (cc), 13 James Short, 14 Oli Sedgwick, 15 Austin Emens. Replacements: 16 Yujian Zou, 17 Archie Stanley, 18 Henry Mountford, 19 Max Mayor, 20 Lachlan McGrigor, 21 Ieuan Davies, 22 Raff Weston, 23 Will Roue.