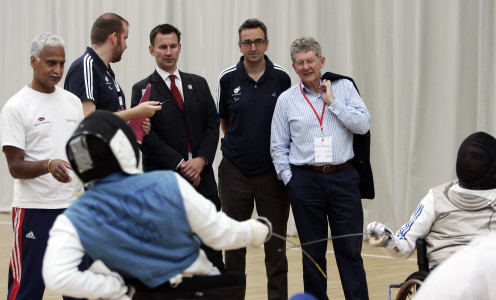 Jeremy Hunt, Secretary of State for Culture, Olympics, Media and Sport, has praised the University of Bath's role in hosting ParalympicsGB's Paralympic simulation camps.
Around 100 British athletes from 11 sports have been attending the pre-London simulation camp, designed to familiarise them with the environment and systems they might experience at London.
The Secretary of State visited the camp at the University of Bath Sports Training Village today (Friday) – three days before the one year to go to the 2012 Paralympic Games milestone is reached on Monday (29 August).
"The University of Bath has done a fantastic job in recreating exactly how it will feel next year," he said. "It's a big coup for the West Country that this is happening in Bath.
"I believe next year will be the year when the Paralympics come of age. We will see how inspirational the stories of individual Paralympians are and I think we will see that touch the heart of the nation."
Bath MP Don Foster was among local dignitaries attending the tour, which included an opportunity to see British fencing and sitting volleyball squads training.
Tim Hollingsworth, Chief Executive of ParalympicsGB, said: "The camp is an important way in which we help the sports to prepare athletes for the Games.
"The scale of a Paralympics Games is so different to what athletes are used to at their major international competitions. By replicating the Games-time experience, where athletes live and train in a multi-sport environment, we aim to familiarise them with what to expect in London and therefore ensure that they are best prepared."
Stephen Baddeley Director of Sport at the University of Bath said: "The ParalympicsGB camp is really something quite special. It's been an exciting time for us and there's been a fantastic buzz around the building. We've enjoyed working closely with ParalympicsGB and we look forward to welcoming them back again next year ahead of 2012."
Wheelchair tennis player Louise Hunt, studying Sports Performance at the University, was among athletes attending the camp.
She said: "I absolutely love studying here, the course is fantastic. I've found in the last couple of years my tennis has improved and I genuinely think that is because I have been learning more about myself and been able to put what I've learnt into practice so I think the two are combined fantastically.
"It's really nice to have the increased interest and it's just a great opportunity to show this is what we can do and to show how fantastic it [wheelchair tennis] is to watch and play."
Athletes have trained across a range of Paralympic sports at the camps, including archery, fencing, football, goalball, powerlifting, shooting, swimming and tennis.
The ParalympicsGB camps are Lottery-funded through UK Sport.