University of Bath graduate Mhairi Spence achieved the London 2012 Olympic qualifying standard in style by winning gold at the Modern Pentathlon World Championships in Rome today (Saturday).
And there was further success for the British team with University of Bath student Samantha Murray producing a terrific finish to take bronze and also achieve the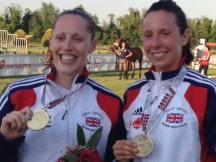 Olympic qualifying standard.
It means three British women have achieved the 2012 Olympic standard to date – Biology student Freyja Prentice achieved the feat at last year's European Championships. Further GB athletes could achieve the standard through the Olympic ranking list – but only two athletes per gender per nation can compete in the pentathlon at the Games.
Spence, who has a Coach Education and Sports Development degree from the University, went to the World Championships ranked fifth in the world, becomes the first British woman to win the individual gold at a Modern Pentathlon World Championships since Steph Cook in 2001.
And there was further success for Spence and Murray, who joined forces with Heather Fell to win team gold to take the team's medal tally at the championships so far to four following the team relay bronze won by Katy Burke, Kate French and Katy Livingston on the opening day of the championships.
Spence produced a tremendous run/shoot to climb from third place to first, overtaking France's three-times world champion on the final 1k run.
The Scot had started the run/shoot in third, 37 seconds behind Caze. But she shot well and left the shooting range the final time just two seconds behind the Frenchwoman. She took her on early on in the final 1k run and then went away from her towards the end.
"People were cheering me on coming down the home straight at the end and I found some extra energy somewhere," she said. "I just kept fighting and fighting all the way.
"I worked so hard all day to keep it  together. When I got to the shooting range I found the flow that we're always looking for in sport
"It's unbelievable, I'm just so happy." She added. "I've got a great team behind me. Everyone has worked so hard to get me here. We've worked really hard for this."
Murray, had worked her way up into third place by the final run, but was overtaken by China's 2009 World Champion, Qian Chen towards the end. But she too overhauled Caze with a sprint finish to come home in third and take bronze.
The University of Bath French and Politics student said she was delighted to win the individual bronze and achieve the Olympic qualifying standard. She said: "I can't believe it, I had to work really hard for it on the home straight. I'm so pleased and proud."
Spence finished six seconds clear of the Chinese athlete, with Murray just two seconds further back and just one second ahead of Caze.
Heather Fell produced a battling run/shoot to climb from 20th to end the day in 15th while Prentice finished in 16th.
Jan Bartu, Pentathlon GB Performance Director, said: "It's been a terrific day for the British team. As far as the British ladies' team is concerned, it's our best World Championships since 2001.
"It was a heroic performance by Mhairi. She was really running on empty in the last 200m. It was amazing to see Samantha overtaking Caze at the end.
"It's been an emotionally charged day and we're massively proud," he added." It's fantastic reward for the whole team and coaching staff, but also for the support staff back in Bath and for UK Sport who have provided funding. We are proud that we have proved again that we are good value for money.
"We now have one or two days to come back to mother earth, regroup, refocus and continueworking hard towards London."
Pentathatlon GB's High Performance Centre is based at the Unviersity of Bath.