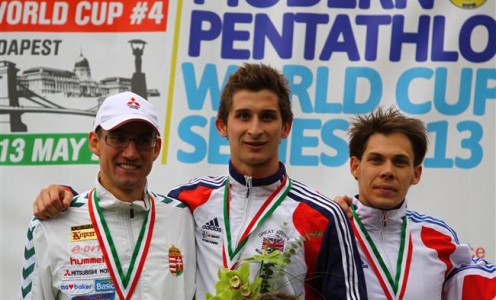 Britain's Jamie Cooke won the first Modern Pentathlon World Cup medal of his career today (Sunday), and he did it in style, taking gold in Budapest.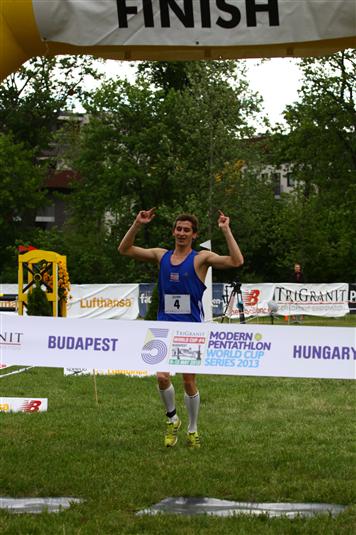 The 22-year-old, who won the World Junior Championships in Argentina in 2011, had to produce a gritty and spirited performance to battle back from 24th place after the fencing.
But the world number 40 ranked athlete was the fastest in the pool, went clear in the ride and then produced a terrific run/shoot to take gold.
It rounded off a fantastic weekend for the British team in Budapest that had already seen reigning world champion Mhairi Spence take bronze in the women's final yesterday (Saturday), while Sam Weale, competing at his first World Cup since London 2012, came home in sixth place today. The British team train at the Pentathlon GB High Performance Centre at the University of Bath
Cooke went into the run/shoot in fourth, 21 seconds behind event leader, Hungary's world number two Adam Marosi, the bronze medallist at the London 2012 Olympics who had already won World Cup gold in Rio in March and silver in Palm Springs in February.
But Cooke overhauled him on the third visit to the shooting range, using just six shots to hit the five targets in 10.35 seconds. Marosi needed nine shots and 20 seconds to start his third of four 800m runs.
Cooke remained calm, again using just six shots to hit the five targets and left the range for the last time with a nine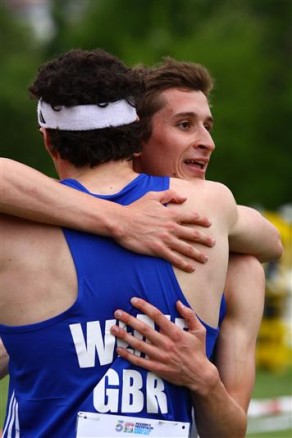 second lead over the Hungarian. Cooke's lead never looked in danger on the last run and he crossed the line 10 seconds clear of Marosi.
Afterwards Cooke said: "This was my first World Cup medal, so I'm so happy. I never thought I would do this after the fencing this morning, but I had a good swim, a good ride and a good combined.  My shooting was definitely the key today.
"Adam (Marosi) was awesome all day and I was definitely scared with him behind me at the end," he added. "I just ran as fast as I could."
Jan Bartu, Pentathlon GB Performance Director, said: "This was a fantastic conclusion to the four World Cups this year and a good start to the Rio Olympic cycle for us.
"It was an amazing performance by Jamie and a massive milestone for Pentathlon GB.  He seemed to be fearless in the combined event today. It was the hardest World Cup this year, all the top athletes were competing here, but it all came together for Jamie.
"I was pleased to see two athletes finishing in the top six in the men's final. It's the first time I can recall that happening in my 15 years as Performance Director," he added. "It was good to Sam Weale return after struggling with a foot injury. He seems more relaxed and that was probably the best combination I've seen from him today.  He showed he has matured as an athlete."