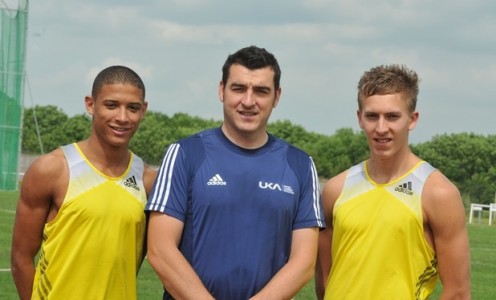 University of Bath athlete David King set the qualifying standard for this summer's European U23 Championships as he helped England to overall victory at the Loughborough International on Sunday.
The Sports Performance student, coached by James Hillier, smashed his personal best as he won the 110m hurdles race in 13.69.
"It was a PB and a massive progression, so I feel really, really good," said King, who won gold for the university at the British Universities and Colleges (BUCS) Championships earlier this month and is supported by the Talented Athlete Scholarship Scheme (TASS).
"I'm ahead of where I was this time last season, when I opened outside 14 seconds. This year I opened in 13.8, so it's looking good."
Leon Reid, who is also part of Hillier's training group, also set a European U23 qualifying time as ran the 100m in a PB of 10.34 in Italy. He had already set the required standard at 200m.
Back in Loughborough, in-form Jazmin Sawyers continued her winning run by beating Olympic champion Jessica Ennis-Hill in the long jump.
Sawyers – who does some of her training at the University of Bath – claimed victory for England with a leap of 6.29m, following on from her success at the Great City Games in Manchester eight days earlier.
London 2012 heptathlon champion Ennis-Hill, making her first competitive field-event appearance for two years, was runner-up in 6.16m.
"I'm really pleased with the win but I hoped for a little bit further," Sawyers told the England Athletics website.
"I wanted a breeze behind and some sunshine. We got the breeze but the sun didn't come out! I'd have liked to jump further as I'm in much better shape than that reflected."
Sixteen-year-old Emily Wright, who is part of Dan Cossins' training group at the University of Bath, was an impressive sixth with a clearance of 5.94m.
Laura Maddox, coached by Colin Bovell at the university, captained the Wales team at the championships and competed in the 4x400m hurdles – an event in which she won silver with Great Britain at the recent European Indoor Championships.
Pictured are (from left) Leon Reid, James Hillier and David King. Picture courtesy of Bath Chronicle/Local World.