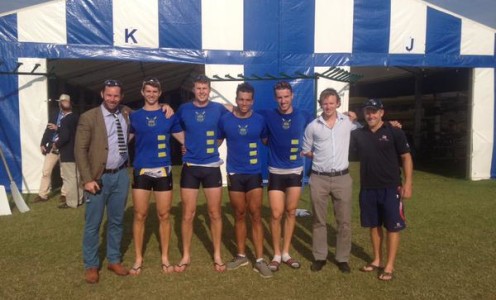 Bath University Boat Club saw their memorable Henley Royal Regatta campaign come to an end with defeat to a strong GB lightweight crew in the Prince of Wales Challenge Cup on Friday.
But Economics student Frazier Christie ensured there would be Bath interest into the weekend as he helped a Cardiff University and Sir William Borlase's Grammar School composite crew into the semi-finals.
Bath's A quad, pictured, earned the praise of Sir Matthew Pinsent when they came from behind to win their first race on Thursday evening.
However, facing a Leander Club and Oxford Brookes University crew featuring European lightweight men's pair champion Joel Cassells was always going to be a tougher ask.
The Bath crew of Tom Mapp, Alex Wilding, Nick Bell and Ben Jackson stuck to the task, though, and were only beaten by just over a length.
While the winners were a potential GB lightweight crew for this month's U23 World Championships in Bulgaria, Christie and his crew-mates are pushing for selection in the heavyweight boat.
And the quad – coached by Dan Harris, who heads the GB Rowing Team Start programme at the University of Bath – helped their chances by beating Molesey BC and The Tideway Scullers' School by one-and-a-third lengths.
Up next for Christie, Alex Haynes, George Stewart and Tom Barras is a tough semi-final against a Leander Club crew that beat Bath University B in Thursday's heats.
Dan Harris tweeted the above picture of the Bath A quad with their coaches after Friday's race