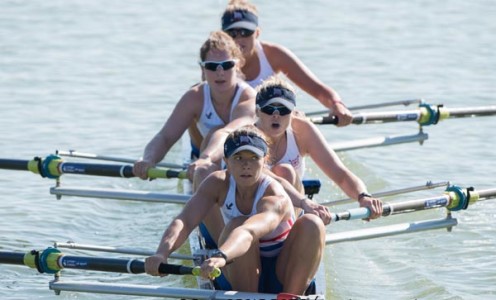 University of Bath rowers Sam Courty and Frazier Christie both made good progress on the second morning of the World U23 Championships in Plovdiv, Bulgaria.
Courty, a Santander Sports Scholar who has just graduated in Sports & Exercise Science, is part of a GB Rowing Team women's four that won their repechage to secure a place in Saturday's final.
Having finished runners-up in their heat on Thursday, the four of Emily Ford, Melissa Wilson, Holly Hill and Courty made a strong start to Friday's race and quickly established a clear lead over New Zealand.
They continued to control the race in impressive fashion and will now line up against the Kiwis, Australia, Canada, USA and Germany in the final at 2pm on Saturday.
Courty and Ford will be bidding for a second successive medal at the World U23s, having won silver with the women's eight in Varese, Italy last year.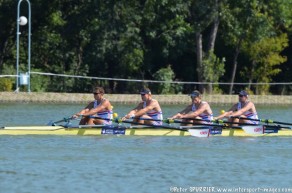 Economics student Christie – who, like Courty, is a Santander Sports Scholar and part of the GB Rowing Team Start programme at the University of Bath – is making his debut at the World U23s in the men's quadruple scull.
There was disappointment for the crew of Tom Barras, Christie, Andy Brown and Andy Joel on the opening day as they finished fourth in their heat.
However, they produced a much improved first quarter in Friday's repechage, which set them up to comfortably finish third and progress to Saturday's semi-finals.
The quad – coached by Dan Harris, head of the Start programme at Bath – row again at 10am BST.