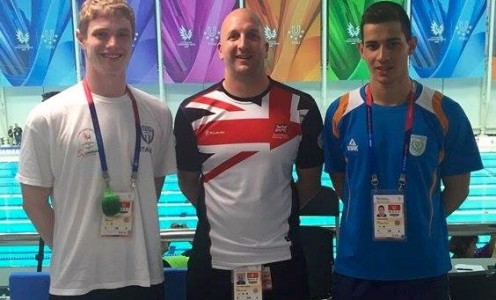 Swimmers Jay Lelliott and Thomas Tsiopanis have thanked their coaches and financial supporters at the University of Bath after enjoying success at the 2015 World University Games in Gwangju, South Korea.
The two Sports Performance students are part of head swimming coach Mark Skimming's performance group and train in the London 2012 Legacy Pool at the Sports Training Village.
Lelliott – a Santander Sports Scholar – won 400m freestyle gold and 800m freestyle silver at the Games, while Cypriot swimmer Tsiopanis set a new national record in the 400m individual medley.
Both had financial assistance towards their trip from the Elite Athlete Support Fund, which is made possible by donations from University of Bath graduates.
Lelliott said: "The competition was extraordinary with 12,000 athletes competing – the event is the second biggest multi-sport event in the world, second only to the Olympic Games.
"The Games were extremely exciting and were also a great stepping-stone meet, presenting many challenges and requiring a high level of organisation from myself to be able to perform optimally while in a foreign country.
"The main challenges I faced were adjusting to an eight-hour time difference and the jet lag that brought, plus trying to recapture the feel for the water after a 24-hour travelling day.
"These were pretty difficult obstacles but after a few days I was feeling fresh and able to race well.
"After leading for 650m of the 800m freestyle final, I was passed at the 700m mark and could not chase down Sergii Frolov of Ukraine and wound up with the silver medal in a time of 7:50.97.
"That was an eight-second personal best, so overall I was happy with the performance but gutted to lose the lead that close to the finish line.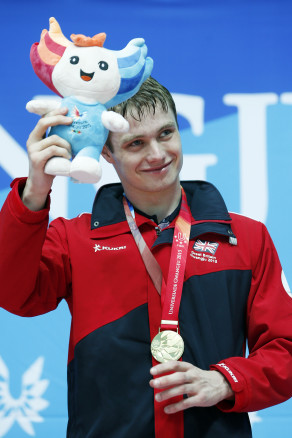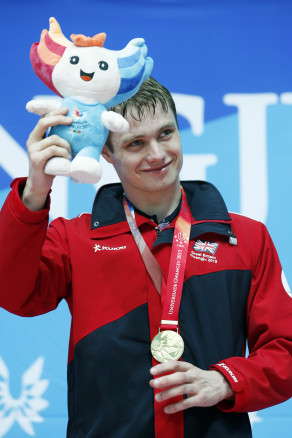 "The 400m freestyle heat was up next day and although I felt extremely heavy, I managed to just qualify first for the final in a 3:51.4.
"The final consisted of a two-way battle between myself and Jack McLoughlin of Australia and, having led all the way, I just managed to hold him off to win in a time of 3:48.84.
"Overall I was happy with my first international win but there was so much I could have done differently to have swam faster.
"My last individual race was the 1,500m freestyle, which I personally consider my best event. However, fatigue had hit me hard by this point and I struggled through my heat to just qualify fastest in 15:08.
"There was nothing left in the final and could only produce a time one second faster to finish fourth. This was really frustrating for me as it is the worst place to finish but, looking at the meet as a whole, I was extremely happy to walk away with my first world senior silverware.
"The team at the pool was incredible and helped me out big time. I can't thank my coach Mark Skimming enough for getting me to this point. The other coaches out there, Dave Hemming and Chris Jones, were also great towards me.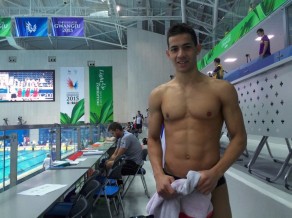 Tsiopanis, meanwhile, described the competition in Gwangju as "one of the greatest experiences of my life".
"The pool and the environment in the Nambu University International Aquatics Centre, where the Games were held, were great and one of the best I had ever been to," said the 22-year-old, who moved to Bath last September to start his studies.
"This was the place where over the next few days I met new people, made some good friends and gained a deeper insight into other cultures.
"My best moment at the Games was when I achieved a new national record [4:31.78] in 400m individual medley on the last day.
"This was the moment when I realised that all the hard work and effort I had put in over the past year, together with my coach Mark Skimming at the University of Bath, had actually paid off.
"At this point, I would like to thank Mark as well as the rest of the coaching team for their amazing guidance and advice that they have given to me so far.
"My experience in Korea would not have been possible without the important contribution of my sponsors, whom I would like to thank as well. Their work has given me the chance to meet a new world, broaden my horizons and improve my knowledge in this sport and for these I am really grateful.
"My experience at the 2015 Universiade in Korea was one of the greatest experiences in my life and one that will have a huge impact in my future career. Now, I look forward to the next challenge."
Main picture is Jay Lelliott, coach Mark Skimming and Thomas Tsiopanis at the World University Games