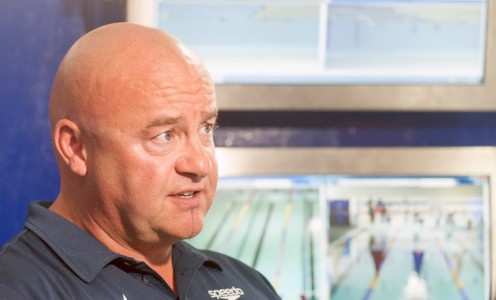 Swimmers from the National Training Centre at the University of Bath have been urged to "flex their muscles" at the FINA World Championships and lay down a marker for the Rio 2016 Olympic Games.
Dave McNulty, pictured, Head Coach of the British Swimming National Training Centre Bath, said he is looking for his seven swimmers to challenge for medals when they compete in Kazan, Russia next week.
Jazz Carlin will be a strong contender in the 400m and 800m freestyle, while fellow Commonwealth champion Siobhan-Marie O'Connor is second-fastest in the world this year in the 200m individual medley.
She will also compete in the 200m freestyle, while Lizzie Simmonds – who has Dual Career status at the University of Bath – doubles up in the 100m and 200m backstroke.
Chris Walker-Hebborn goes into his 100m backstroke competition as the fastest in the world in 2015 and Sports Performance graduate Calum Jarvis will contest the 100m freestyle.
Double Olympian Jemma Lowe goes in the 100m butterfly and Andrew Willis, fresh from graduating in Chemical Engineering, contests the 200m breaststroke – an event in which he missed out on a medal by just 0.18secs at the 2013 World Championships in Barcelona, Spain.
McNulty, who will be part of the British Swimming coaching team in Kazan, is excited about his swimmers' chances and has urged them to aim their sights high.
"All my swimmers know that what excites me is medals, nothing is more important than that," he said.
"I'm not just interested in getting swimmers to a championships, my brief is to get World and Olympic medals and that's why I'm here.
"These World Championships, coming a year before the Olympics, are where people flex their muscles and show their cards. If you are serious about a medal in Rio, I think you have to show something the year before.
"The quality of athletes we have now is great. I've got some people who are ranked top three in the world, so that's exciting, and I've got some swimmers who are in with a medal chance in the relays, so that's exciting as well.
"To be honest I pinch myself every day thinking that I am head coach here in Bath because it is a great city, a great university and a great National Centre. I couldn't think of a place I would rather be."
Carlin moved her training base to the University of Bath in December and has already produced some impressive results, both at the British Championships and on the international Mare Nostrum Series.
"I'm looking forward to racing – all the early mornings and hours of swimming are worth it when you get to the big competitions and hopefully perform at your best," she said.
"I look around at my team-mates and there are Commonwealth and European champions, World and Olympic medalists. I'm also lucky enough to be training alongside my friends. We motivate each other in training every day and really do push each other – having people like that really does spur you on."
By contrast, Walker-Hebborn is the longest-serving member of the Bath squad having joined the programme when it first started in 2008.
He made a major breakthrough last year by winning gold at both the Commonwealth Games and European Championships, and has carried that form into 2015.
"I'm feeling confident at the moment," said the backstroke specialist.
"I had some good swims last year and I was a bit nervous because I didn't want that to be a one-off, I wanted to reaffirm that status.
"The [World Championship] trials were a big competition for me and I managed to go quicker again, so I was over the moon. Now I'll be using Kazan as a milestone for the Olympics next year.
"My target for the year was to go 52.4secs [in the 100m backstroke] and I've managed to do that already. My main target in Kazan is to make the final because once you do that it is anyone's competition."
Willis saw off some incredibly strong domestic competition – including training colleague and London 2012 silver-medallist Michael Jamieson – to secure one of two 200m breaststroke places in the British squad.
"British Swimming is going through a complete resurgence and the depth, especially in my event, is huge," said Willis.
"I am really happy to have qualified for the Worlds – it was definitely something I had to do in order to keep the momentum building up until Rio."
Simmonds also feels like she is making good progress towards next year's Olympics after fully adapting to her training programme at the National Centre Bath.
"My target for Kazan is to improve on my times from the past couple of years and get back down towards my bests," said Simmonds, who moved to Bath on the back of finishing fourth in the 200m backstroke at London 2012.
"I also really want to put myself right on the map for the next year. We didn't have the chance to race the whole world last summer, it was a Commonwealth and European year, so it will be good to be back amongst that field."
The FINA World Championships get under way on Sunday, August 2.