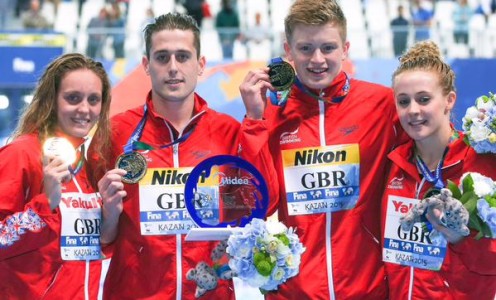 Chris Walker-Hebborn and Siobhan-Marie O'Connor helped Great Britain's mixed 4x100m medley relay team set a new world record during a golden evening at the FINA World Championships in Kazan, Russia.
The swimmers, who both train with the British Swimming National Centre at the University of Bath, teamed up with Adam Peaty and Fran Halsall to touch the wall first in 3:41.71 in Wednesday's final.
Backstroke specialist Walker-Hebborn got the British quartet off to a superb start and Peaty – fresh from winning the 50m breaststroke title, his second individual gold of the week – ensured they had maintained the lead at the halfway mark.
O'Connor and Halsall built on that in the butterfly and freestyle legs to bring Britain home 1.56 seconds clear of second-placed USA and secure gold in the first-ever mixed 4x100m medley relay final at a World Championships.
It won't be contested at Rio 2016 but Walker-Hebborn said he would like to see the event added to the Olympic schedule for Tokyo 2020.
"Some of the big countries entered really strong teams tonight and it was a big fight," said Walker-Hebborn, coached by Dave McNulty and Graeme Antwhistle in the London 2012 Legacy Pool at the Sports Training Village.
"It's great to be sat in the call room with familiar male faces and familiar female faces. It definitely brings a different aspect to the competition.
"I think it's an event which should keep on going and while we might not see it next year, I'd love it to be part of the programme at 2020."
Halsall added: "That was Chris' fifth 100m backstroke in three days, so to step up on his last one and swim faster than in his individual is just a credit to how much it means to be swimming together for the team.
"I think we all stepped up and did a great swim. To swim a world record and be world champion is incredible."
O'Connor won 200m individual medley bronze on Monday, while Walker-Hebborn secured a top-five finish in the 100m backstroke on Tuesday.
They are among seven University of Bath-based swimmers competing at the World Championships, which continue until Saturday.
British Swimming tweeted this picture of (from left) Fran Halsall, Chris Walker-Hebborn, Adam Peaty and Siobhan-Marie O'Connor with their gold medals