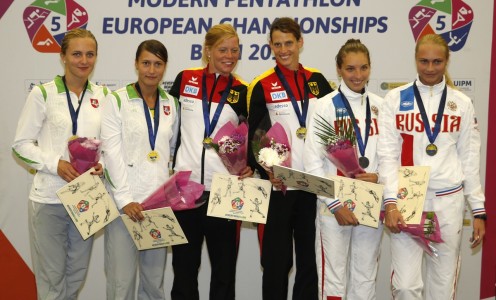 Germany and Ukraine struck team relay gold at the Modern Pentathlon European Championships on Wednesday – and the University of Bath was also placed on top of the podium.
Athletes from across the continent have been full of praise for both the facilities at the £30million Sports Training Village and the spectators who have turned out in all weathers to provide vocal support.
After glorious sunshine for Tuesday's mixed team relay, won by Italy, the women's and men's team events took place in heavy rain which made for difficult conditions in both the show-jumping and the combined run/shoot.
But that did not dampen the spirits of those who cheered individual World Champion Lena Schoneborn down the home straight as she won women's team gold with Annika Schleu.
"We both knew we were strong in the run/shoot so we were confident," said Schoneborn, who was also Olympic champion in 2008.
"Annika gave us a really good start and I had a strong first shoot, so I was able to really enjoy it after that.
"It is a very nice venue. The pool is good and we have been told the ride jumps will be a bit higher for the individual finals, which I am looking forward to.
"The fencing did not go great for me but the sports hall was very nice and hopefully we will have a good crowd there cheering us on again this weekend."
Ireland's Sally McCarthy and Jennifer McGeever, who finished sixth overall, have also been impressed by the welcome they have received in Bath.
"I have to say all the volunteers have been great, it's been the best competition I've been to – I'm really impressed," said McCarthy.
"The show-jumping course is lovely and I think the organisation is brilliant, especially down in the warm-up arena.
"The venue is amazing – really, really good. It's brilliant to have everything under one roof. And then we're living so close by too, it makes everything easier as you can just go back to your accommodation.
McGeever added: "It's amazing the amount of people that have turned out. They must have done a good job of promoting the event."
The biggest cheers of the day came for the Pentathlon GB athletes competing on their home turf.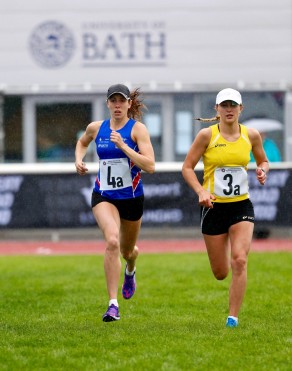 The women's team was made up of Samantha Murray and Mhairi Spence, both former World Champions and both University of Bath graduates, in French & Politics and Coach Education & Sports Development respectively.
And they gave the home fans plenty to cheer in the opening event, the 2x100m freestyle swim in the London 2012 Legacy Pool.
Spence produced a solid swim to hand over in fourth place to Murray, who then powered away from the field to win by almost four seconds.
The British duo impressed again in the sports hall, converted into a top-class fencing salle for the week, as they strengthened their grip on top spot.
They won 27 of their 42 bouts, with first place decided in the last round when Spence landed the winning hit against Germany's Schoneborn.
However, while their morning couldn't have gone much better, there was a frustrating start to the afternoon for the Brits during a riding round made even more challenging by heavy rain.
Murray's horse Daisy – randomly assigned, as are all the horses – twice refused the first fence, then Spence clipped the last fence on Fly as they picked up costly penalty points.
That dropped them to fourth in the overall standings behind Russia, Germany and Lithuania but there was only 16 seconds separating them all going into the run/shoot.
A strong run from Murray got Britain right back in contention and sharp shooting from Spence saw her move into bronze-medal position.
However, while Germany impressively beat Russia to gold, Lithuania's Lina Batuleviciute was able to regain third place and hold off a determined finish from Spence.
Spence said: "That's the thing about pentathlon; It was close right until the end. I know all the girls are fighters and it just, it happens, it's pentathlon.
"I'm obviously disappointed but equally I really enjoyed the day. The organising committee has done a great job – considering we train here every day, they've transformed the place completely!"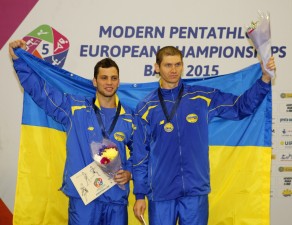 Business Administration graduate James Myatt and Sam Curry, a Politics and International Relations student and Dual Career athlete at the University of Bath, also finished a narrow fourth in a men's relay competition won by Ukraine.
Going into the combined event, they were more than a minute behind Russia but a fantastic performance saw them pass the leaders – who trailed in fifth – and close in on third-placed Italy.
A dramatic sprint finish brought raucous support from the stands but Italy's Tullio de Santos was just able to hold on, finishing two seconds ahead of Myatt.
It had been a similar story in the opening event, the 2x100m swim, as Curry surged down the last length to finish just 12-hundredths of a second behind an Italy team featuring Valerio Grasselli who won mixed relay gold on Tuesday.
However, they lost ground in the fencing and five penalties in the riding saw Myatt and Curry start the combined run/shoot fifth overall.
The Brits were greeted with huge cheers throughout the day and Curry said: "We were trying to keep our serious faces on but we both had to smile when that noise went up. It's really great to have the home crowd behind us.
"It was one of the greatest feelings in the world just looking into the crowd and seeing all your friends and your family there, you just find something special."
The individual competitions begin on Thursday with the men's qualifiers.
Among those taking part is reigning Olympic champion David Svoboda, who is being shadowed this week by a broadcaster from his native Czech Republic for a radio documentary.
Pentathlon GB will be represented by double Olympian Nick Woodbridge, Jamie Cooke and University of Bath students Joseph Choong and Tom Toolis.
The action gets under way at 11am and admission is free.