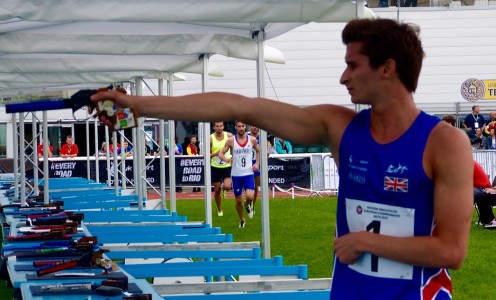 University of Bath students Tom Toolis and Joe Choong will have a shot at Rio 2016 qualification on Saturday after booking their places in the men's final at the Modern Pentathlon European Championships.
They joined fellow Pentathlon GB athlete Jamie Cooke, pictured, in progressing through Thursday's qualification round and giving the home fans at the Sports Training Village plenty to cheer.
Toolis, a Sport & Exercise Science student, performed consistently well and finished sixth overall in Group A – comfortably inside his top-12 target.
If he finishes inside the top eight again in Saturday's final he will set the qualification standard for the Rio 2016 Olympic Games.
"Qualifying today is that one step closer to gaining an Olympic spot, so I'm chuffed to bits," Toolis said.
"The support for us is great. You talk about the home advantage and it really builds up a fire in your belly, you don't want to let them down.
"I definitely increased my performance in the fence and the swim because of it and I just cruised that last 800m but it was enough to get into the final."
Mathematical Sciences student Choong recovered from a poor fencing round, which put him 14th going into the combined event, to finish tenth overall – much to the delight of his vocal supporters on the Sports Café terrace.
"I've got all my family here, my grandparents are here – it's a big support," he said. "You can here them as you come along that home straight and you think 'I've got to do this for them'.
"I think I missed just five shots overall and that's what kept me in it. I think it's the worst senior fencing I've ever had, but I can improve in the final."
All four of the British athletes made a real splash in the London 2012 Legacy Pool, with Cooke, Choong and Nick Woodbridge the only swimmers to go under two minutes.
Toolis – who has been on a work placement with British Swimming's National Training Centre at the University – also set a season's best time of 2:02.58 as he won his heat.
Pentathlon GB's athletes are trained in the pool by University of Bath Head Swimming Coach Mark Skimming, who was pleased with what he saw.
"They have all swam season's bests and three of them were the only swimmers to go under two minutes in the competition, so that is a satisfying result," he said.
"They are all pretty strong in the swim anyway but the atmosphere has given them a bit of a boost, which could also help them in the final.
"It is pretty rare for me to see them in competition. I usually get their times and splits but to actually see them is really good. It gives me an insight into what we need to do next year in order to move things on going into Rio and beyond."
Woodbridge also performed well in the fencing, despite picking up a ten-point penalty, and was second going into the run/shoot but struggled for fitness and finished 26th.
Cooke was Britain's best performer overall, finishing runner-up to former World Champion Justinas Kinderis in Group B.
"I'm feeling good for the final – it's always nice to be able to jog the last lap of a combined course," he said.
"Finishing in the top eight would be amazing but I'll just take it as it comes. I think it will come down to my fencing, if I can put myself in the top eight going into the combined anything can happen."
Friday sees the women bidding to qualify for their final on Sunday, with Pentathlon GB being represented by University of Bath graduates Samantha Murray, Kate French and Freyja Prentice plus newly-crowned World Junior Champion Francesca Summers.
The action starts at 11am and admission is free.