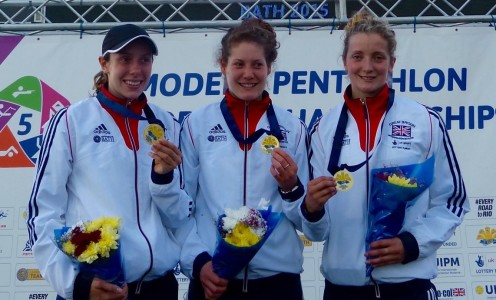 Kate French earned a Rio 2016 Olympic Games qualification place and there was team gold for Pentathlon GB as a world-class Modern Pentathlon European Championships concluded in fitting style at the University of Bath.
Sports Performance graduate French went into the combined event 15th overall but produced a fantastic performance, missing just one shot, to secure the top-eight finish she needed.
"I don't think it's really sunk in yet but I am so pleased," she said. "I had quite an average day until the combined event but this is just the best feeling.
"The other three disciplines were good. I wouldn't say they were my best but they were good enough to get me where I am now so I'm pleased.
"It was so good competing in front of home support, particularly on the last lap. I was hurting so much and they really spurred me on to keep running."
French also had a medal to show for her efforts as she topped the team rankings with fellow University of Bath graduates Samantha Murray and Freyja Prentice, who finished tenth and 13th respectively. Francesca Summers was 29th.
Pentathlon GB Performance Director Jan Bartu was pleased to end the week with a medal for the home team and was also delighted after French joined Murray and Joe Choong in setting the Rio 2016 qualification standard.
"Kate only missed one shot in the combined, which was very impressive," he said.
"It's a shame she couldn't follow through in the fencing because the first half was great and she struggled afterwards.
"That had a negative impact on her competition and meant she had to do some catching up but the rest of her performance was fantastic."
Bartu played an instrumental role in bringing the European Championships to the University of Bath, Pentathlon GB's home for the past 16 years.
The venue was sold out for finals weekend, with spectators and athletes raving about both the facilities and the standard of competition.
That was summed up by the final gold of the championships as Olympic champion Laura Asadauskaite of Lithuania, who started the run/shoot in 11th place, powered through the field to beat France's Elodie Clouvel to the women's title.
"This has definitely been the best event of the year, absolutely no question about it," said Bartu. "I am so proud."
Supporting the athletes throughout the day were four Pentathlon GB greats – Dr Stephanie Cook, Kate Allenby, Georgina Harland and Heather Fell.
Cook and Allenby famously won gold and bronze at Sydney 2000, starting a run of success that has seen British women medal at each of the last four Olympic Games.
Harland won bronze in Athens four years later and Fell – who is commentating for the UIPM live stream this week – was a silver-medallist at Beijing 2008.
Cook, who was awarded an Honorary Degree (Doctor of Medicine) from the University of Bath in 2008, retired in 2001 after adding both the World and European titles to her Olympic crown.
"It's great to be back in Bath and see what a fantastic job they have done in staging this competition," she said. "It is an amazing venue and there is such a good atmosphere, especially for the Brits.
"This is an important competition and obviously the pressure is on for the athletes but it is only the beginning of the journey to Rio. There is still a long way to go but this is an important first stepping stone."
During her time in Bath, Cook was heavily involved in the campaign to secure planning permission and funding to build the £30million Sports Training Village, which opened in 2003.
"It has changed a lot since I was training here and the facilities now are just brilliant," she said.
"They are just what you need if you want to have a world-class training centre. The athletes have everything they need here."
Cook was also impressed by one of the temporary features installed this week especially for the championships – the show-jumping arena in the athletics in-field.
"I went straight out onto the terrace when I got here this morning, I had to see it to believe it," she said. "It looks brilliant."
Also watching the afternoon's action was Dr Tom Hudson, the former University of Bath Director of Sport who was responsible for introducing sporting scholarships and was recently inducted into the Team Bath Hall of Fame for Sport.
He was a modern pentathlete himself and competed at the 1956 Olympic Games in Melbourne.