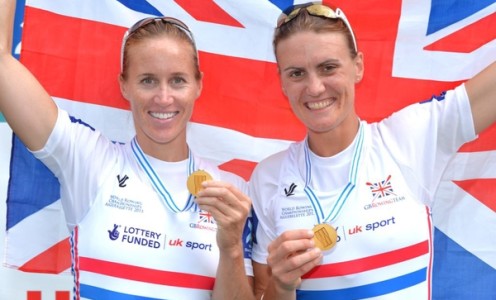 Sir David Tanner, Britain's rowing chief, has hailed the World Championships women's pair gold won by University of Bath graduate Heather Stanning and Bath Minerva's Helen Glover as  "one of the best GB performances of all-time".
"That was utterly exceptional", said Tanner of the pairs dominant race to gold, holding off New Zealand and the USA.
Gold for Glover and Stanning on the world stage can sometimes be taken for granted. The Olympic, World and European Champions made it look easy once more in France today, successfully defending their world women's pair title by a big margin.
Even in victory Stanning was talking about the improvements they needed to make and the hard work to come.  "We have worked very, very hard and it's exciting because we feel there are more improvements to come".
Glover said: "We wanted to feel the pressure here of defending a title because that is what we will have to do in Rio".
GB now tops the World Championships medal table with four golds, nine silver and one bronze another day of finals to come.
Glover and Stanning were the first GB crew in action in today's finals.  They were drawn alongside Felice Mueller and Eleanor Logan of the USA who had won the opposing semi-final on Thursday.  New Zealand's Grace Prendergast and Kerri Gowler constituted the top contender  – albeit beaten by the GB combination the semi-finals.
Glover and Stanning, coached by Robin Williams,  made a blistering start.  Within 250m they were three-quarters of a length ahead.  The USA and Canada were amongst the closest in the chasing echelon.
Just before halfway the Canadians dropped off the pace whilst New Zealand moved up with the USA.  Glover, from Penzance, and Stanning, born in Yeovil but now from Lossiemouth, were still piling on the pressure at the front.  They were three seconds ahead as the second half began to unfurl with the Kiwis, as predicted, their closest rivals.
The gap was now emphatically "clearwater".  New Zealand moved up a length ahead of the USA but the race was already done.  Glover and Stanning came home in 6:52.99 to take the win by two lengths – just outside their own world best time.  New Zealand took silver in 6:56.75 and America the bronze in 7:00.55.
You can find out more about Team Bath on our website teambath.com
You can also follow Team Bath on Twitter at twitter.com/teambath or facebook.com/teambath
For further information please contact the Team Bath press office at Matchtight Ltd on 01225 383518 by email at press@matchtight.co.uk