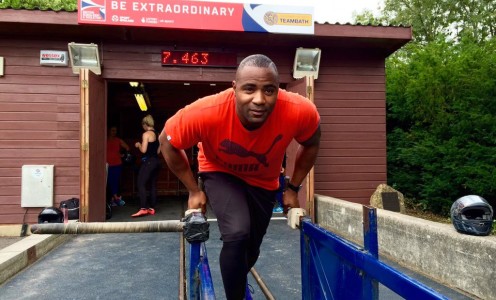 Mark Lewis-Francis is determined to add a Winter Olympic medal to his Summer Olympic gold after joining the British Bobsleigh squad, based at the University of Bath.
The 33-year-old was part of the Great Britain men's 4x100m relay team, along with University of Bath sprinter Jason Gardener, which famously won gold at the Athens 2004 Games.
Now he has swapped the athletics track for the push track at the £30million Sports Training Village as he prepares to make his competitive bobsleigh debut at the Swiss Push Championships later this month.
"I'm all about challenges," said Lewis-Francis, who has also tasted success at the World Championships and Commonwealth Games.
"I've already won a gold medal in the Summer Olympics and if I can win a medal at the Winter Olympics, I'll be a happy man.
"Michael Khmel, who is now coaching at British Bobsleigh, used to be my 4x100m relay coach with Great Britain. I hadn't seen him for a while but I had a text from him out of the blue asking if I was interested in trying in bobsleigh. I'd watched the last Olympics and I was intrigued. And I bit his hand off, to be fair.
"It's definitely not as easy as it looks and that excites me. The bob is very heavy and it's very technical – it's not just about pushing something down a hill and I've found that out already.
"It still entails speed, it's still explosive and it's still what I do. And the attitude I've seen in the camp is amazing, so if I can bring an extra spark, it could be a great team.
"I'm loving the fact that British Bobsleigh and the British Bobsleigh & Skeleton Association have given me this opportunity and I'm going to grab it with both hands."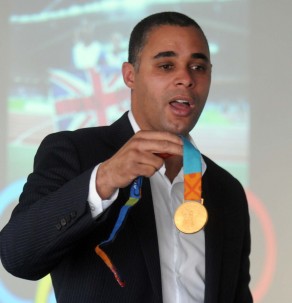 Performance Director Gary Anderson is excited about attracting an athlete of Lewis-Francis' pedigree as British Bobsleigh looks to build on a fifth-placed finish in the four-man event at the 2014 Winter Olympic Games in Sochi.
"For an Olympic gold medalist to want to come and be a part of the programme shows that we're on the right track," said Anderson.
"We've been inducting him into the sport at our push track facility in Bath and that's quite a fast process. He's met the athletes and trained with them, now he's working with the coaches to look at transferring his speed into pushing.
"I'm fairly certain that Mark will push a sled quickly: he has everything that our research suggests he needs to do that and I'm excited about seeing him out on the ice this winter."
The British Bobsleigh & Skeleton Association is based at the University of Bath, with athletes training in the High Performance Gym and on the newly-upgraded outdoor push track – the only one of its kind in the country.
For more information about the British Bobsleigh & Skeleton Association, visit www.thebbsa.co.uk
Top picture of Mark Lewis-Francis on the University of Bath push track courtesy of Nick Hope @nickhopetv