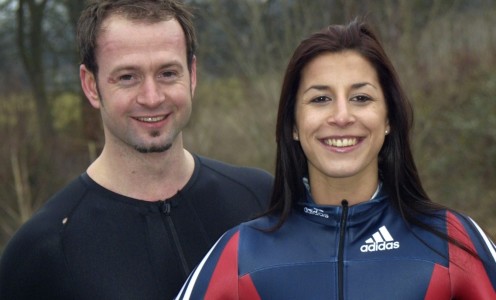 The University of Bath has paid tribute to former skeleton World Champion Dr Kristan Bromley, who has announced his retirement from competition.
Bromley both trained and worked at the University and was a pioneer in sled design technology during his time as a Research Officer in Engineering & Applied Science from 2002 to 2006.
He was involved in producing the sled on which Alex Coomber won a historic bronze medal at the 2002 Winter Olympic Games, designed the sled on which Shelley Rudman won silver four years later and also used his engineering expertise to forge a hugely successful career of his own.
Bromley made history in 2008 when he became the first slider to claim the Triple Crown by winning the World Championships, European Championships and overall World Cup titles in the same season.
The 43-year-old also secured the overall World Cup title in 2004 and further European Championship golds in 2004 and 2005, as well as a European silver medal in 2009 and a World Cup bronze in 2000.
He featured at four Olympic Games, in Salt Lake City in 2002, Turin in 2006, Vancouver in 2010 and Sochi in 2014, finishing fifth in Italy nine years ago.
Stephen Baddeley, Director of Sport at the University of Bath, said: "Kristan's groundbreaking work in sled design here at the University helped lay the foundations for British Skeleton's outstanding success during the past decade.
"He played a key role in establishing the University of Bath as a centre of skeleton excellence and has made a huge impact in his sport, both as an innovator and a world-class competitor."
Bromley added: "I'm very proud of what I've achieved, including representing my country at over 100 World Cup and championship events and four Olympic Games, but now is the right time to move on to other things.
"It's only now that I'm reflecting and thinking that it's been an amazing ride. Winning the treble didn't sink in at the time but that was the season I was the most proud of."
Andi Schmid, British Skeleton's Performance Director, believes Bromley's achievements match those of the very best sportsmen the country has ever produced.
"Kristan enjoyed an incredible career on the international stage and very few athletes can rival him across all sports, let alone skeleton," said Schmid.
"To be in and around the medals for close to 20 years is quite remarkable and to win all three titles in one year was an incredible achievement that very few people will ever be able to match. He was, and still is, the model for all other British male sliders."
Bromley's fiancée Rudman, the 2006 Olympic silver-medallist and 2013 World Champion, has also confirmed that she will not race during the 2015/16 season.
The Coach Education & Sports Performance graduate, from Pewsey in Wiltshire, gave birth to second daughter Sofia seven months ago and is extending her maternity leave but has not ruled out a return to competition.
"I've got qualifications and experience in a variety of things, from teaching, performance coaching and mentoring to Sports Science and PR, so there are lots of options I can explore if I don't come back to sliding," added Rudman, who won the World Cup title in 2012.
"When I set out in skeleton I wanted to win medals in every competition I could and I was really fortunate in that I've been able to achieve that aim. My Olympic silver medal was an absolute dream moment but, for me, my World Championship title in St Moritz was a real highlight."
Rudman's initial involvement in skeleton was when she made friends with some of the athletes while studying at the University of Bath.
She returned in 2002 to pay a visit to one of those friends, Greg Kirk, who took her along to a training session on the University's unique push-track. She loved it and spent the next 12 months funding herself, travelling around Europe with a group of military athletes as she looked to learn and develop in the sport. She was selected to join the British Skeleton development team in 2003 and has gone on to enjoy an outstanding career.
"Shelley took British Skeleton to another level," added Schmid. "She performed at the highest level time and time again and her achievements were sensational.
"We have a really talented group of athletes currently in the senior squad or moving up through the ranks and Shelley's success has played an important part in ensuring that British Skeleton continues to be successful on the world stage."
Rose McGrandle has also announced her retirement from the sport after six years as part of the British Skeleton programme.
She won the Intercontinental Cup (ICC) title in 2012, secured a bronze medal at the World Cup event in Igls in February and finished ninth in this year's World Championships in Winterberg.
"Rose was a very strong, very talented and very focussed athlete who achieved some notable results. Winning the ICC title really showed her potential," said Schmid.
"She was part of a very powerful team who all pushed each other and had a very high level of professionalism. She should be very proud of her career and to have represented her country with such distinction."