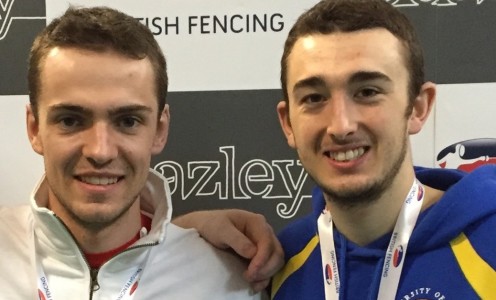 University of Bath students Tom Edwards and Chris Hay have been selected by British Fencing for an Olympic qualifying competition in Switzerland next month.
The 52nd Tissot Grand Prix of Bern – a World Cup event – will feature a world-class field as the Rio 2016 Games draw ever closer.
Biology student Hay (left in the picture) will be making his second senior international appearance, having represented Britain at the Challenge RFF-Trophée Monal in Paris in May.
"The experience I gained there was really good and hopefully it will put me in good stead to do better this time," he said.
Sport & Exercise Science student Edwards – who, like Hay, receives a Santander Sports Scholarship and is supported by the university's Dual Career programme – will be making his senior international debut in Bern.
Edwards won epee gold at the Beazley British Championships earlier this year and said: "I will be looking to build on the success I have had domestically and see how that translates to the international stage.
"The quality of competition is going to be extremely high, especially in Olympic year, and it should be a great test to see where we stand."
Edwards and Hay both train in the fencing salle at the Sports Training Village and represent the University of Bath Fencing Team and Bath Sword Club.
Philip Marsh, who does some of his training with Edwards and Hay, has also been selected for the World Cup. It is taking place from October 23-35 and all three will compete in the epee category.