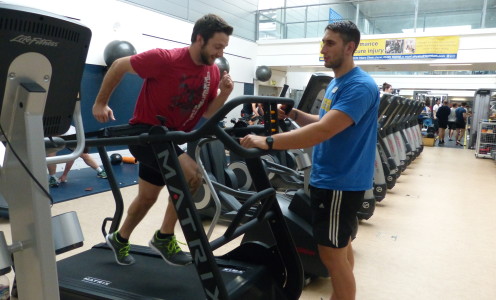 Team Bath has joined Arsenal FC in becoming one of only three sporting institutions in the country to host a prototype sprint treadmill designed to improve an athlete's foot-speed and explosive power.
The self-powered machine has been introduced to the world-class Sports Training Village gym this week.
It is the only treadmill that allows users to do both prowler and parachute exercises, and up to 45kg of weight resistance can be added.
Tony Ali of Matrix Fitness, distributors of the new treadmill, said: "It is like having a 500m running track on the gym floor. There is no motor and it is entirely powered by the user.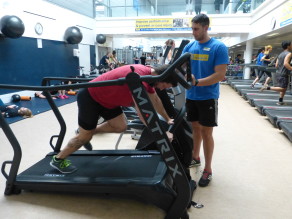 "We wanted to bring the prototype to the Sports Training Village because we have an excellent partnership with the University of Bath and feel that the high-performance athletes who train there will be able to provide solid feedback on the positives and benefits.
"But I would ask everyone to have a go on it – students and regular gym members – and contribute to the future development of the prototype."
The treadmill will be at the Sports Training Village for the next three months, with a view to it being released nationwide in March.
Matrix Fitness has also supplied Team Bath with a range of new industry-leading Matrix IC7 bikes as used by British Cycling's Laura Trott and Dani King among other top cyclists.
The bikes, which measure performance using 'WattRate' power-meter technology rather than measuring heart rate as is the industry norm, will be used for IC7-specific Revolution classes for University of Bath staff, athletes and members of the public.
They will run daily between Monday and Saturday, beginning on October 5. Further details can be found on the fitness classes timetable.