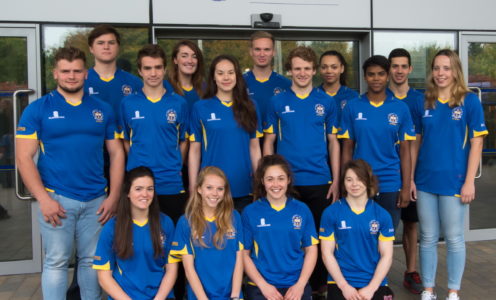 Talented student athletes from an array of different sports have been awarded University of Bath sporting scholarships.
Among the 2015 scholars are medallists at British and World Championships, an England Hockey Cup winner and a rugby player who competed in this year's Six Nations.
University of Bath students with the potential to succeed both academically and in their chosen sport can apply for the scholarships, which are awarded each year.
They are supported by alumni and friends of the University, who are passionate about giving talented young people the opportunity to benefit from Bath's sporting and academic environment.
Stephen Baddeley, Director of Sport at the University of Bath, said: "We were the first sporting institution in the UK to offer scholarships, so it is tremendous to see such a talented and diverse group of student athletes benefitting from them once again.
"The scholarships would not be possible without the generous support of the alumni and friends of the University. I would like to thank them and congratulate the scholars on their awards."
There are three new scholarships this year, with two of them going to judoka who are both studying Sport Performance.
Chloe Robyns-Landricombe, the recipient of a Thompson Education Trust Scholarship, has represented Team Bath Judo Club for the past two years. Coached by Juergen Klinger and competing in the under-57kg weight division, she won junior bronze at the 2014 British Championships and silver at this year's Scottish Open.
Prisca Awiti-Alcaraz, a five-time age-group British Champion, won junior gold at the English Open this year and has represented Great Britain on several occasions.
Inspired by the London 2012 Olympic heroics of silver-medallist Gemma Gibbons, herself a University of Bath graduate, Awiti-Alcaraz is being supported by the King Scholarship, set up by alumnus Justin King CBE.
He said: "I am delighted that Prisca will be the first to benefit from the King Sports Scholarship. Already a member of Team GB Judo, I am hopeful that, with this support, Prisca's performance will go from strength to strength both athletically and academically.
"As her career progresses, I look forward to seeing Prisca winning medals in the future."
Receiving a Goldsmith Scholarship is Sport & Exercise Science student Nick Bell, a former footballer who successfully trialed for the GB Rowing Team Start Programme in 2013. He represented Bath University Boat Club at the Henley Royal Regatta this year and also won silver and bronze medals at the BUCS Regatta in Nottingham.
Natural Sciences student Shauntelle Austin, who won 17/18yrs 200m butterfly gold at the 2015 British Swimming Summer Championships, has been awarded a Bill Whiteley Sports Scholarship.
Two international swimmers are among the ten students receiving a Santander Sports Scholarship. Germany's Emily Siebrecht is studying International Development with Economics, while Sport Performance student Thomas Tsiopanis represented Cyprus and the University of Bath at this summer's World University Games in South Korea.
Team Bath Netball players Shaunagh Craig and Paige Reed, who both study Sport Performance, will also receive backing from Santander. Craig was voted as Supporters' Player of the Season in 2015 and Reed has recently been selected into the England National Academy.
Biology student Jack Houghton, 400m hurdles silver-medallist at the 2015 British Championships and BUCS outdoor champion, is one of two athletes being supported by Santander.
The other is Oliver Clark, who won long jump silver at the England Athletics U20 Championships and gold at the English Schools' Championships this year.
Fellow Sport Performance student Lloyd Wallace made history in March when he won Great Britain's first-ever Europa Cup Aerials skiing gold, which he backed up with bronze at the World Junior Championships.
He receives a Santander Scholarship, as does fellow skier Alice MacAulay. The Natural Sciences student won slalom silver and giant slalom bronze at the 2015 National Junior Championships and competed at the World University Games.
Mathematics student Noah Rogerson is in his first year of competing as a senior in fencing and is currently ranked 13th in Britain for sabre. He is confident of securing his first international selection this season.
And the final Santander scholar for 2015-16 is Sport Performance student Greg Palmer, a prop who has played for Bath Rugby's U18s and United 2nd XV.
Receiving a Trendell Sports Scholarship is Sydney Gregson, who played for England in this year's Women's Six Nations. She also won the European Championships with England U18s in 2014 and plays her club rugby for Bristol.
Fellow Sport Performance student Peter Scott scored a memorable goal to help Reading beat Surbiton 5-1 and win the 2015 England Hockey Cup at the Lee Valley Centre.
He will also receive a Trendell Scholarship, as will athlete Jennifer Nesbit. The Sports & Social Sciences student battled back from an autoimmune disease to make her Great Britain cross-country debut last winter and won 5,000m bronze at this year's England Athletics U20 Championships.
The final Trendell scholar is Sport Performance student Alex Lane, a former European U17 Champion in badminton and men's singles semi-finalist at this year's English National Championships.