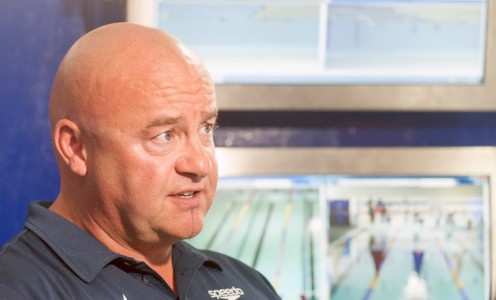 Head Coach Dave McNulty and four swimmers from the National Centre at the University of Bath are heading to Netanya, Israel for the LEN European Short Course Championships.
Siobhan-Marie O'Connor and Chris Walker-Hebborn are among five World Champions in the 12-strong team, which will be led by McNulty.
Also looking to round off the year in style are Jazz Carlin, a bronze-medallist at the World Championships, and University of Bath graduate Andrew Willis, who finished just outside the medals in Kazan.
McNulty, pictured, said: "As well as racing the very best that Europe has to offer, the main aim for the team will be to continue with the highly professional team behaviours while developing the outstanding arena skills that have given the British Swimming team some great success over the last few years.
"It's our job to ensure we do not to take a step back, we need to continue with these winning ways and to make it the norm for our teams going forward."
The event, running from December 2-6, sits in the middle of a hard block of work for the British team as they lay the foundations on which to build their performances for the 2016 Olympic year. The Europeans enable them to combine this with race preparation and process practice.
The British Swimming National Centre Bath is one of just two in the country, with elite swimmers utilising the world-class London 2012 Legacy Pool and Team Bath High Performance Gym facilities.