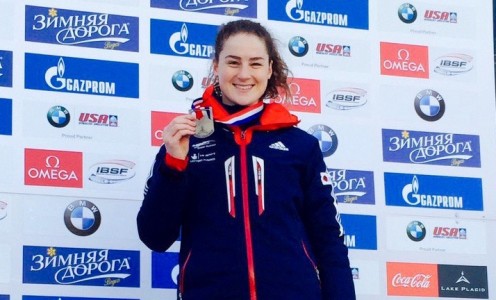 University of Bath-based slider Laura Deas won another medal and the GB four-man bob missed out by just four-hundredths of a second during a highly-encouraging start to 2016 for the British Bobsleigh & Skeleton Association (BBSA).
Five medals were also won by Britain's young bobsleigh athletes in St Moritz, including a clean sweep of podium places in the women's race, as GB continued their dominance of the Winter Youth Olympic qualifying competition.
Deas, who won gold in the opening ISBF Skeleton World Cup race of the season, was back on the podium at Lake Placid in the United States on Friday as she finished third overall.
Team-mate Donna Creighton also recorded her first top-ten finish of the season after a strong showing, while Dominic Parsons – a Mechanical Engineering PhD student at the University of Bath – was an impressive seventh in the men's race.
Deas said: "It's a great way to start the New Year. I want to be challenging for medals consistently so to be on the podium again is a great feeling.
"I want to be a constant threat this season so I was delighted to be able to put down two consistent runs. I want people to look over their shoulders at me, knowing that I will be in the mix throughout the year.
"This is a good platform to kick on from ahead of Park City next week. That's a track I like, although I didn't race there last year, and I'll be looking to keep up the momentum now."
Lake Placid also hosted round four of the ISBF Bobsleigh World Cup, where Lamin Deen and brakemen John Baines, Joel Fearon and Andy Matthews finished a fantastic fourth in the four-man race.
The result was all the more impressive as it came just 24 hours after Deen and Baines had crashed out of the two-man competition.
"It was a truly outstanding result for a crew that overcame yesterday's events," said GB Bobsleigh Performance Director Gary Anderson.
"We are now expected to be challenging for the podium in every four-man race, and that shows just how far we have come.
"We are totally focused on performing well at the World Championships in Igls next month and these results are all part of that process. We are on track and I am so proud of all our athletes and all the staff who make this happen."
John Jackson and his crew of Jonny Anderson, Ashley Watson and Judah Simpson were 16th in GBR2.
Mica McNeil and Aleasha Kiddle also finished fourth in the Women's European Cup in Konigssee, while Brad Hall and Justin Oro-Campos claimed a top-ten finish in the men's two-man at the same track.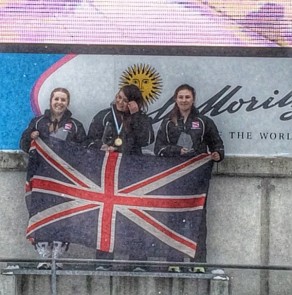 There was plenty of cause for celebration in St Moritz as the next generation of British bobsleigh athletes won five of the six medals available in the final qualifying race for next month's Winter Youth Olympics.
There was a third gold in seven women's races for Kelsea Purchall, who was joined on the podium by Annabel Chaffey and Aimee Davey.
The men's competition saw George Johnston claim his second gold of the season, with Ed Himbury winning bronze and Adam Hames finishing fourth.
That meant GB had won close to half of the 42 medals on offer during the series, much to the delight of Performance Director Anderson.
"One thing I've dreamt of my whole sporting career is to see three Union flags raised on a medal podium and that dream has now become a reality," he said.
"The officials from the St Moritz Bobsleigh Club came up to me and said they only had two Union Jacks but that they would find us another so we could hoist all three – that's how unique an achievement this really is.
"I'm immensely proud of the squad and to see those young people's faces as those flags went up was something very special.
"The amount of people that have come up to our athletes and our staff and congratulated them since is unprecedented. I'm just so proud of and pleased for these young people – they are a real credit to our country."
The second Winter Youth Olympics – for athletes aged between 15 and 18 – take place in Lillehammer, Norway from February 12-21. Selection for the GB team will be announced in the coming weeks.
Athletes with the BBSA train on the unique outdoor push-track at the University of Bath and in the world-class gym at the Sports Training Village.