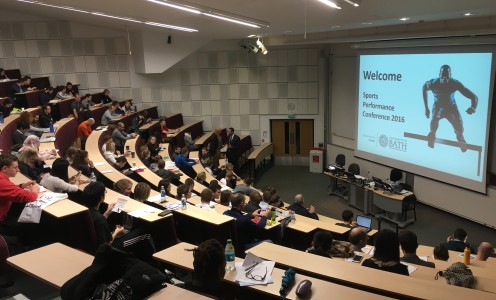 More than 200 athletes, coaches and sport specialists flocked from across the UK and Europe on Friday (January 22) to the University of Bath for the Sports Performance Conference organised by Team Bath athlete Eva Piatrikova.
The ground-breaking day featured expert talks, analysis and networking focusing on the importance of direct and constructive links between research and performance in sport.
Professors from as far as Vrije Universiteit Brussels, the University of Central Lancashire and Loughborough University joined University of Bath lecturers to deliver insight on the subject, with keynote talks on 'Science FOR performance? How applied is our research?' and 'Perspectives of over-reaching and over-training in athletes' among others.
Speaking after the event, organiser Piatrikova, a University of Bath Sports Performance graduate, said: "The conference exceeded my expectations.
"Delegates had a unique opportunity to listen to and speak with world-renowned sports scientists, practitioners and athletes," she continued. "This allowed them to gain insight from multiple perspectives of how research is conducted, applied and experienced by scientists, practitioners and the athletic population respectively.
"We have shown everyone that the Sports Performance course here is keeping up with contemporary requirements and is an exceptional course at an exceptional university."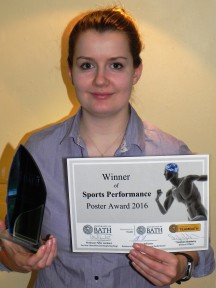 The conference also featured a Sports Performance Award designed to offer current Sports Performance undergraduates the opportunity to have their dissertations analysed by the expert speakers and have valuable feedback provided.
The award was won by international GB field archer and University of Bath Bsc Sports Performance student Lizzy Rees (pictured, right).
Loughborough University Professor Mike Gleeson, who gave a talk on nutritional support, heaped praise on the organisation and success of the day.
"The whole event was superbly organised and hosted by Eva," Gleeson said. "It provided an excellent blend of fundamental science principles with real-life applications to sport performance in the form of example case studies from an expert sport dietician and several athletes.
"This is just the sort of concise but extremely informative one-day symposium that is attractive to a wide audience and is needed to promote the understanding of sport performance issues and how science can be applied to solve some of the problems athletes and coaches face."
Following the conference's unquestionable triumph, there is already talk of a renewal next year – much to the delight of those who attended this year's event.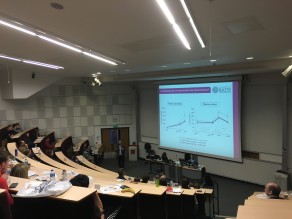 GB ultra-runner Holly Rush, who attended and presented on the day, shared the sentiment.
She said: "The conference was a great success, offering up-to-date, science-based research on nutrition, physiology and performance management.
"It was a great chance to share ideas and meet like-minded people," she continued. "I'm already looking forward to 2017's line-up."
The event, hosted in the University of Bath's East Building, received funding through the Teaching Development Fund, the University's Department for Health and various sponsors such as BASEM, BASES, SECA Ltd and Chia Charge. The conference was also credited as a CPD opportunity for scholars looking to add to assist their academic learning.
Piatrikova's support from key University figures helped shape the planning and delivery of the conference and she was quick to appreciate those who aided her along the way:
"My thanks go to Sports Performance Director of Studies Nick Willsmer, my lecturer James Fern and Head of Department James Bilzon who all helped me organise this amazing event," she said.
"The trust of the Teaching Development Fund committee was fantastic and I really do believe we've put on a proud display for the Sports Performance course.
"From the feedback we have received so far, our delegates rated the conference delivery as excellent and are really keen for us to organise another conference next year."