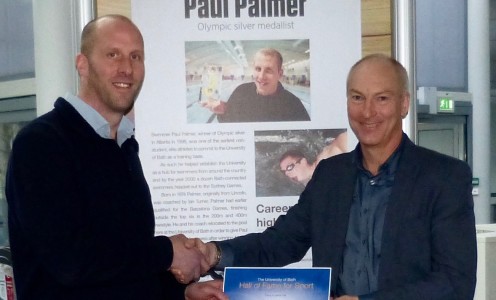 Swimmer Paul Palmer is the latest name to be inducted into the University of Bath's Sporting Hall of Fame.
2016 marks 20 years since he won his swimming silver at the Atlanta Olympic Games.
"Medals were hard to come by then", said his coach and former Team Bath Head Swimming Coach, Ian Turner.  "Lottery funding wasn't on tap and some of the things that are now taken for granted, like sports science and nutrition, were in their infancy".
Palmer relocated to Bath, from his home town of Lincoln where he swam for Lincoln Pentaqua club, to give himself the best possible chance of success and went on to also bag two European golds in 1997 and 1999.
"I don't think people realise just how revolutionary the set-up was in Bath in those days", said Palmer.
"It was fantastic to train with Olympic hopefuls from other sports.   We had access to sports science and medicine support as well as food, fitness and training facilities".
His coach, Ian Turner, followed him to Bath.  In the lead up to the Atlanta Olympic Games, Turner had taken six months unpaid leave from his job as a PE Teacher to support his charge.
Turner said: "My wife and I had to dip into our savings. When he later said he had heard about the set-up in Bath and wanted to make the move there, he wanted the partnership to continue so I just gave everything up and moved to coach him there.
"I still have incredibly fond memories of my time at Bath with Paul.  I have coached all around the world since and I still say that my favourite place was Bath".
Turner not only went on to become Team Bath Head Coach but was later appointed Head Coach of British Swimming.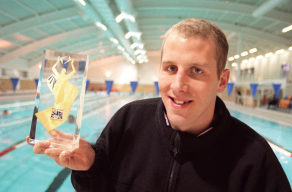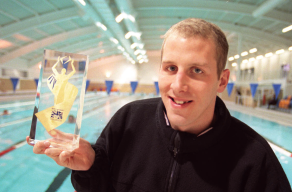 Asked why Palmer stood out, he said: "He was a late maturer and didn't win his first national age group title until he was 15.  Paul had an incredible ability to swim hard but then recover well overnight and do the same again the next day.  Swimming is a tough sport and he was doing 10 two and a half hour sessions every week".
Palmer also remembers his time at Bath.  "I spent five very happy years training at the University and have very fond memories of that time and of the city", said Palmer.
After winning Olympic silver Palmer was outspoken on the national stage about the lack of funding for elite athletes. He took the then Prime Minister John Major to task in the national media.
His pioneering public statements dovetailed, unbeknown to him, with the research work being done at the same time by University of Bath graduate David Carpenter on lottery-funded sport around the globe which greatly assisted the advent of the National Lottery with sport as one of the supported "good causes".
Eventually the lottery, through Sport England, supplied £21 million towards the overall investment needed to build the Sports Training Village which since 2004 has seen generations of athletes win medals on the world stage as well as being open seven days a week to the public of Bath.  1.6 million people use the Sports Training Village every year.
"I wasn't here in that era but was involved in sport at elite level in the UK and overseas and was aware of what Bath was developing", said Stephen Baddeley, the Director of Sport at the University.
"It is fitting that we have the chance to honour someone like Paul who forged a path for others to follow".
Baddeley presented Palmer with his Hall of Fame certificate in a ceremony today at the Sports Training Village.
Palmer joins athletes Ben Rushgrove, Jason Gardener and Amy Williams who have already been inducted alongside coaches Jan Bartu and Lyn Gunson.
For more information contact:  The Team Bath Press Office on 01225 383518 or 07831 755351
Follow us on Twitter:  @teambath
And on Facebook:  www.facebook.com/teambath 
Paul Palmer – Career highlights:

Gold – 200m freestyle, European Long Course Championships, Seville, Spain, 1997 and Istanbul 1999.

Gold – 400m freestyle, European Long Course Championships, Istanbul, 1999.

Silver – 400m freestyle, Olympic Summer Games, Atlanta, Georgia, USA, 1996

Silver – world short-course championships 2000, Athens

Bronze – World Championships, 1998, 400m freestyle and 4 x 200m freestyle, Perth.