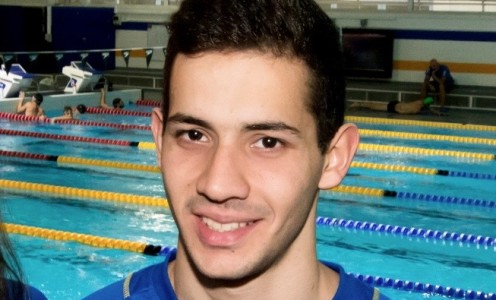 University of Bath sporting scholar Thomas Tsiopanis has been named as Cypriot Male Swimmer of the Year.
The 22-year-old, who is in the second year of a Sports Performance degree, received the accolade after a 2015 that saw him set six national records – two of them while competing at the World University Games in South Korea.
He clocked 2:07.74 in the 200m individual medley, beating the record he had previously set at the 2015 Games of the Small States of Europe, and then set a new standard of 4:31.78 in the 400m IM.
The World University Games are the second-biggest multi-sport event behind the Olympic Games, which Tsiopanis is ambitious to experience in 2016 – although he acknowledges there is a lot of work to do to make that dream a reality.
"I am proud to have been named as Cypriot Male Swimmer of the Year, it is definitely a great honour," said Tsiopanis, who also set national short-course records in the 100m, 200m and 400m IM.
"But there are other important things I want to achieve in my career and getting to the Olympics is definitely a goal of mine.
"There is still a lot of work to do to get the times I need but hopefully I can get there. I feel like I am getting better and better all the time with the help of my coach, Mark Skimming.
"He is always very supportive and patient with us, I definitely feel my performance are improving working with him."
To be in with a chance of Rio qualification, Tsiopanis needs to set the Olympic Selection Time by the FINA ranking deadline of July 3. There are also specific meetings where the time can be set.
They will take place in Europe in April and June, with Tsiopanis being helped with the travel costs by his Santander Sports Scholarship at the University.
"In order to get to the big meetings you need to have sponsorship, so I am very grateful for that support," he said.
"I am also part of the Team Bath Dual Career programme, which is very helpful in making sure I manage both my swimming career and academic studies."
Tsiopanis isn't the only member of Skimming's swimming squad with Rio ambitions – Jay Lelliott is also hoping to secure a place in the Team GB squad. He is taking a year out from his Sports Performance studies at the University to focus on his training in the London 2012 Legacy Pool.
The British Swimming Championships, which will double as the Olympic Trials, are taking place at the Tollcross International Swimming Centre in Glasgow from April 12-17.