University of Bath students won a multitude of medals during a fantastic weekend of competition at the BUCS [British Universities & Colleges Sport] Nationals in Sheffield – the UK's biggest multi-sport event.
There were individual golds for Beth Close, Josh Olawore and Cameron Chalmers (athletics); Alex Lane (badminton); Chloe Robyns-Landricombe, Prisca Awiti-Alcarez and Jemima Duxberry (judo); Anna Hopkin and Matthew Johnson (swimming); and Vicky Shenton (trampolining).
Holly Clemens, SU Sport Officer, said: "It makes me immensely happy and proud to see these amazing results for our students at such a prestigious event as the BUCS Nationals.
"They have worked incredibly hard with their coaches, student clubs and peers in order to produce such a high level of performance. Everyone from SU Sport and the Students' Union as a whole is celebrating their success with them. Many congratulations to all!"
Hopkin continued her excellent form this season by setting a new BUCS record of 25.17 as she won the women's 50m freestyle title. She also claimed 100m freestyle silver and 50m fly bronze as she ranked second out of all the female swimmers competing.
Johnson's gold came in the 200m fly, adding to his 200m and 400m individual medley silvers, and he was also part of the victorious men's 4x100m medley relay team with William Harrison, Ben Stuckey and Oliver Maltby.
Backstroke specialist Harrison won three individual medals – 100m silver plus bronze in the 50m and 200m – while Stukey was third in the 50m breaststroke.
Bill Whiteley Sports Scholar Shauntelle Austin won silver in the 200m backstroke and 200m fly, as well as bronze in the 100m backstroke, and there was silver in the 400m IM for Emily Siebrecht, who is supported by a Santander Sports Scholarship.
Austin, Hopkin, Rebecca Swales and Lily West then teamed up to win bronze in the women's 4x100m medley relay as Bath's swimmers – coached by Mark Skimming and Chris Alderton – secured 144 BUCS points in total.
The University's women were in unstoppable form in the judo dojo as Chloe Robyns-Landricombe, Prisca Awiti-Alcarez and Jemima Duxberry combined to win team gold, as well as the individual -57kg, -63kg and -78kg titles respectively.
Robyns-Landricombe and Awiti-Alcarez are supported by Thompson Education Trust and King Scholarships respectively, while Duxberry has recently returned to action after a long-term knee injury. All are coached by Juergen Klinger.
The men's competition saw silver medals for Renz Vallejera (-66kg) and Connor Murphy (-100kg), plus bronze for Jan Gosiewski (-81kg). Gold went to his Team Bath training partner Emmanuel Nartey, who was representing East London University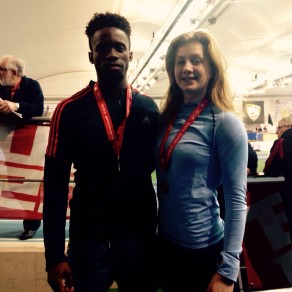 The University's athletics squad enjoyed their best BUCS Nationals results in almost a decade as they brought home a super seven medals
Beth Close, coached by Head Track & Field Coach Colin Bovell, won women's 60m hurdles gold in 8.59 and Cameron Chalmers took the men's 400m title in 47.40.
The third gold went to Josh Olawore, coached by Paul Weston, who cleared 7.33 to win the men's long jump by 1cm.
Olawore and Chambers then teamed up with Ronnie Young and Matthew Jones to win silver in the men's 4x200m relay, a result matched by the women's quartet of Close, Nia Donnison, Rachel Bell and Olivia Caesar.
Caesar was runner-up in the women's 400m and there were bronze medals for Dan Kelland in the men's 800m and Pippa Rogan in the women's high jump.
Trendell Sporting Scholar Alex Lane, coached by Pete Bush, lived up to his billing as top seed in the badminton men's singles competition as he won gold, only dropping one set in five matches.
Amy Reddaway and Devon Minnis both reached the quarter-finals of the ladies' singles and also progressed to the same stage of the ladies' doubles, partnering Hannah Preece and Stephanie Pinharry respectively.
Zach Pallier and Sona Raichoora won five matches to get to the last eight of a big mixed doubles draw.
The trampolining saw Vicky Shenton win gold in the BUCS 4 ladies' category, while Kat Allott, Charlotte Male and Alice MacAulay were bronze-medallists in the women's team event.
Bath also won the SUTL/NEUT Shield for the highest combined execution scores.
The University's karate squad impressed as they won men's team kumite silver and mixed team kata bronze to finish joint top of the overall table.
In the individual events, silver went to Shakira Smith (women's novice kata and kumite -63kg) and Andrea Rendora (women's novice kumite -57kg), while bronze medals were won by Juan Acosta and Alex Powell (men's intermediate kumite), Rina Matsunaga (women's novice kumite -57kg), Anna Blewden (women's novice kumite -63kg), Daniel Gardham (men's senior kumite -60kg) and Luke Williams (men's senior kumite +84kg).
Meanwhile, the University of Bath's rowers were in action at the BUCS Head of the River race in Newcastle, winning bronze in the men's quadruple scull and finishing sixth in the men's eight.