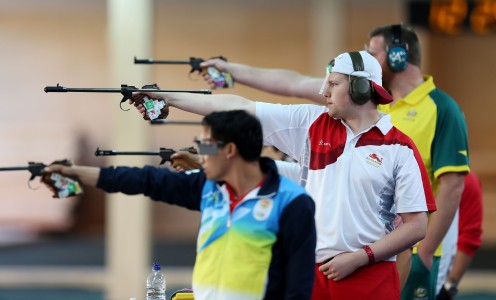 Sharp-shooting University of Bath sporting scholar Kristian Callaghan will go into a busy period of international action with confidence high after winning his first British Airgun Championships senior title.
The Integrated Mechanical & Electrical Engineering (IMEE) Masters student, a three-time junior champion at the event, compiled a score of 191.9 to secure victory in the 10m discipline.
He is now equal first in the Great Britain 10m Air Pistol rankings, as well as outright number one in all the other male pistol events – 25m Rapid Fire, 25 Standard Pistol and 50m Free Pistol.
Callaghan, a bronze-medallist at the Glasgow 2014 Commonwealth Games, has also competed in Austria, Germany and the Netherlands this year, winning team gold at the latter event.
"I was expecting to take a hit performance-wise because I had exams in January and it always takes a while to 'reconfigure' the muscles in my hands to shoot properly after doing so much intense writing and studying," he said.
"This didn't seem to happen, though, as I shot up to six points above my match average at each competition."
Callaghan – who is supported by the Talented Athlete Scholarship Scheme (TASS), an Ivor Powell Scholarship and the University's Dual Career programme – has also represented Freischutz Wathlingen in the German Bundesliga team competition this season and helped them consolidate their Division 1 status following promotion.
He will be looking to continue his fine form when he competes in Dortmund, Germany from March 9-13. That is followed later that month by a visit to Poland before he returns to Germany for the Munich World Cup in May.
Callaghan has qualified for all four World Cup events this year but has decided not to compete in Bangkok and Rio de Janeiro as they clash with his university studies. He will decide on June's World Cup in Baku, Azerbaijan closer to the date.
Callaghan's studies this semester are focused on designing an autonomous drone intended to deliver humanitarian aid following natural disasters.
He is leading the autopilot design for the drone, which will compete in the Institute of Mechanical Engineering's Unmanned Aircraft Systems (UAS) Challenge under the banner of Team Bath Drones.