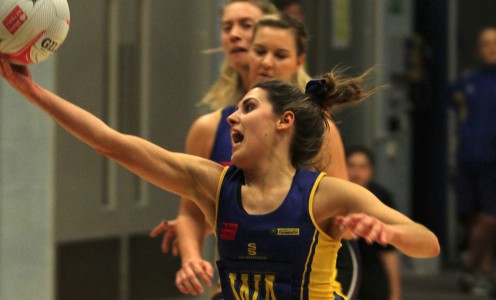 Team Bath Netball's second quarter slump saw them come off second best in tonight's Vitality Superleague encounter with Hertforshire Mavericks by 42-56 at the University's Sports Training Village.
Claire Brownie, the Team Bath wing defence, said; " We didn't have the consistency tonight. We didn't play for the 60 minutes so we are all frustrated as the score doesn't reflect our ability but we will come out fighting on Friday against Loughborough".
Team Bath have a triple-header in the space of seven days with a victory over Celtic Dragons last Saturday followed by tonight's defeat.
The result tonight makes the home clash with Loughborough Lightning more acute on Friday with places in the top-four play-off zone still up for grabs.
Leading 10-5 in the first quarter tonight the Carter-Jonas backed Team Bath side were pegged back and overhauled just before the first interval at 10-11.
"That was disappointing", said co-coach Jess Thirlby. "The momentum swung at the end of that first quarter and carried on into the second half".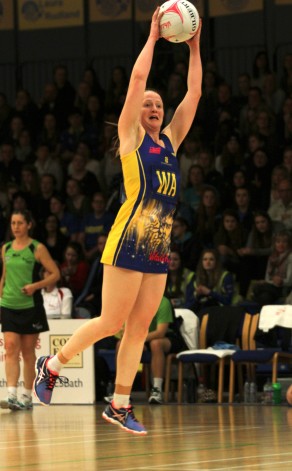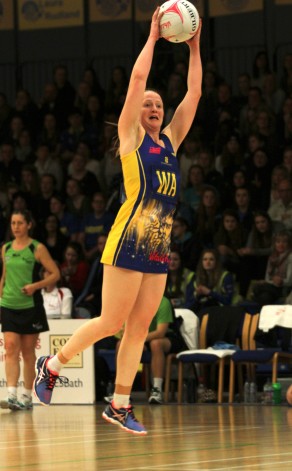 Jo Vann, the athletic and experienced home-side wing-attack, contributed to the strong start for Bath which was built on defensive turn-over from goal-keeper and captain Eboni Beckford Chambers and goal-defence Karla Mostert.
Beckford Chambers was later named player of the match.
In a bruising encounter which regularly saw Vann and Team Bath centre Mia Ritchie skittling across the floor, Mavericks took hold of the second quarter of this Prior Park College sponsored match.
"It was a very physical and strongly-contested game", said Head Coach Anna Stembridge.
Sophie Hankin, brought on at goal-attack for Mavericks, proved mobile out of the circle and deadly accurate inside it.
At the opposite end Lindsay Keable and Layla Guscoth were both aggressive and effective in the Mavericks defence to force Team Bath into multiple backward passes as the feeders toiled to find goal-attack Rachel Shaw and goal-shooter Lenize Potgieter.
"They had great range in the circle and we didn't find a way to counter that", said Stembridge.
At half-time with the score standing at 20-29, coach Anna Stembridge moved Ritchie to wing-attack and Vann to centre. A brief renaissance was thwarted when two chances for the otherwise accurate Bath shooter Potgieter went unconverted at 24-31.
"We did come back to within six after the break and the whole team is frustrated that we weren't consistent enough and that the gap could have been closer going into the final 15 minutes", said Thirlby.
Instead Mavericks, driven by some robust play by centre and Kiwi import Joline Johansson, piled on the points to lead 30-44 at three-quarter time.
Amanda Varey was brought on at wing-attack in the final quarter with Vann rested and Ritchie moving to centre.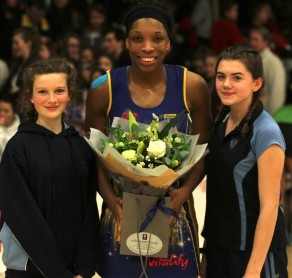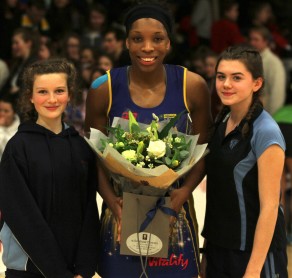 Chelsea Lewis replaced Potgieter at goal-shooter and whilst there were some bright patches Mavericks held steady to win 42-56.
Team Bath will need to find the verve to bounce-back in the week's second crucial encounter on Friday against Loughborough Lightning at home.
"We know that opposing teams will try and slow us down and stop our flow and we need to keep that flow going even under physical pressure", said Stembridge.
Some tickets still remain for the Loughborough game, which starts at 7.45pm with doors open from 6.45pm. They are priced £10 for adults, £7 concessions and £28 for a family ticket.
To purchase, visit www.teambath.com/events/ticketline or call 0844 888 4412.
Find out more about Team Bath at teambath.com. Follow us at twitter.com/teambath or facebook.com/teambath
Follow Team Bath Netball at twitter.com/TeamBathNetball
For further information or hi-res images, please contact the Team Bath press office at Matchtight Ltd on 01225 383518 or press@matchtight.co.uk
Match stats
Team Bath Netball
Starting seven: GS Lenize Potgieter:GA: Rachel Shaw; WA: Jo Vann; C: Mia Ritchie; WD: Claire Brownie; GD: Karla Mostert; GK: Eboni Beckford Chambers. Bench: Chelsea Lewis, Shaunagh Craig, Amanda Varey, Sarah Penny, Alana John.
Changes: Q3: Vann to C; Ritchie to WA. Q4: Vann to bench, Ritchie to C; Varey to wing attack; Lewis from bench to GS.
Team Bath Netball Superleague squad 2016: Eboni Beckford-Chambers (C), Samantha Cook, Claire Brownie, Shaunagh Craig, Nicole Humphrys, Alana John, Chelsea Lewis, Karla Mostert, Sarah Penny, Lenize Potgieter, Mia Ritchie, Laura Rudland, Rachel Shaw, Amanda Varey, Jo Vann.
Hertfordshire Mavericks
Starting seven: GS: Sammy Wallace; GA: George Fisher; WA: Michelle Drayne; C: Joline Johansson; WD: Sam May; GD: Layla Guscoth; GK: Lindsay Keable. Bench: Summer Artman, Sophie Carter, Sophie Hankin, Beth Scarlett Williams
Changes: Q2: Hankin to GA; Fisher to bench.
Hertfordshire Mavericks Superleague squad 2016: Louisa Watson, Ella Clark, Georgina Fisher, Sophie Hankin, Samantha Wallace, Sophie Carter, Michelle Drayne, Joline Johansson, Scarlett Williams, Bethany Sutherland, Samantha May, Lindsay Keable, Vicky Oyesola, Layla Guscoth, Summer Artman.
Quarter scores (Team Bath first)
 Q1: 10-11;   10 – 18(20-29); 10-15 (30-44); 12 – 12 (42-56)
Shooting stats
Team Bath:
Potgieter 28 from 30 93%
Shaw 5 from 9 56%
Lewis 9 from 12 75%
Hertfordshire Mavericks:
Wallace 37 from 42 88%
Fisher 4 from 4 100%
Harkin 15 from 17 88%
Attendance: 900
Find out more about Team Bath at teambath.com. Follow us at twitter.com/teambath or facebook.com/teambath
Follow Team Bath Netball at twitter.com/TeamBathNetball
For further information or hi-res images, please contact the Team Bath press office at Matchtight Ltd on 01225 383518 or press@matchtight.co.uk