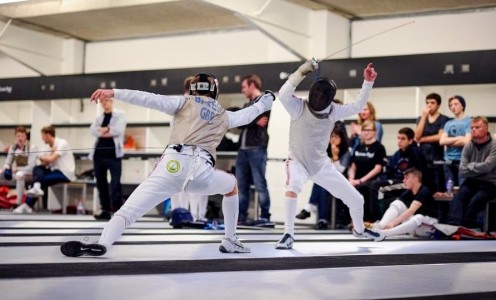 Fencers who train with Bath Sword Club at the University of Bath are celebrating a weekend of British Championships success and national call-ups.
Seventeen-year-old Ben Bates led the way as he won foil gold at the U23 Championships, an age group in which he still has another five years.
He got off to a rocky start in the first round, losing two of his preliminary fights, but rallied and progressed smoothly through the tournament to set up a gold-medal encounter with Salle Boston's Glen Ostacchini.
In a tense and tactical final, Bates edged a 15-12 victory to take the title and qualify to represent Britain at the U23 European Championships in Georgia this June.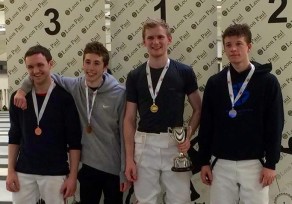 The British Veterans Championships also took place at the weekend, where sabre silver earned Jane Hutchison a place the Over-50s' World and European Championships.
Hutchison, who began fencing as an adult after her children took it up, is a former World Champion and no stranger to international success.
Valerie Young's bronze in the epee competition also sees her qualify for the national side as the highest-placed fencer in her age group.
Bath Sword Club head coach Tim Miles said: "Congratulations to all our fencers this weekend, particularly those who won medals and qualified to represent their country.
"This news is proof of the successful training program the club has developed at the University as well as the commitment and talent of the fencers, many of whom started with us as beginners and are now contenders on the national and world stage."
Bath Sword Club, which has more than 100 members, trains twice a week in the Sports Training Village fencing salle that is also home to Pentathlon GB's national training group and the University of Bath Fencing Club.
A number of students past and present train with the club, including Tom Edwards and Chris Hay who will represent Britain at the Fencing Grand Prix Epee in Budapest, Hungary from March 18-20 – the final Grand Prix of the Rio 2016 Olympic Games qualifying period.
They will be joined by Bath Sword Club's Philip Marsh, who has been a Team Bath supported athlete and is currently in line to be Britain's representative at the European Olympic zonal qualifier next month.
Bath Sword Club teaches all three fencing weapons, from beginner level through to senior international. For more information, visit bathswordclub.co.uk