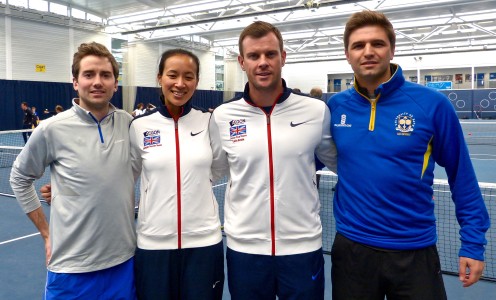 Victorious Great Britain Davis Cup captain Leon Smith was at the University of Bath Sports Training Village on Wednesday to help inspire the next generation of tennis coaches.
He worked with more than 70 coaches to ensure they are now ready to deliver the Lawn Tennis Association's Tennis For Kids initiative, which aims to get 10,000 children aged between five and eight to pick up a racquet and play tennis for the first time.
It is part of the LTA's Davis Cup Legacy Project, looking to build on Great Britain's heroic and historic victory in the 2015 competition.
"The legacy is about impressing on these coaches about inspiring, captivating children and families to take up tennis," said Smith, who captained GB to their first Davis Cup win since 1936.
"The Sports Training Village is an amazing facility, one of the best in the country. There is a great buzz when you walk in and the fact there are so many sports training under one roof gives it a real positive energy.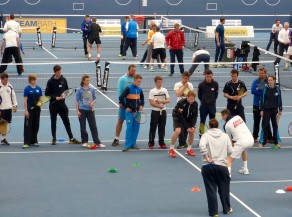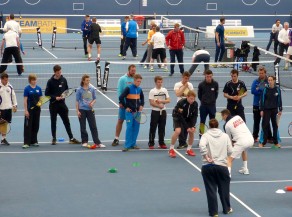 "Bringing the Davis Cup trophy home last year was a massive achievement for Great Britain – I want to be able to use this historic moment to inspire our coaches and support them as we continue to grow the love for our game across many generations."
Smith was joined at the STV by former British number one Anne Keothavong, who – along with Greg Rusedski and Annabel Croft – is serving as a coaching mentor for the national scheme.
Tennis for Kids will offer a free six-week course led by one of the 1,000 coaches recruited, and 10,000 free rackets to children across the whole of Great Britain. To join the initiative, parents can simply sign their kids up online from April, when further information will be released.
Team Bath Tennis coaches will be among those helping to deliver the programme locally, as Head of Club Coaching Matt Smith explains.
"The Team Bath Tennis coaching team are thrilled to be able to be a part of this Davis Cup Legacy Programme," he said. "It was great to be on court with Leon and the team who delivered with an infectious energy all day.
"This is a joint approach with the LTA to capitalise on the incredible success of the GB team and get as many new children into the sport as possible.
"We will be delivering free six-week blocks of tennis lessons with our experienced team of LTA coaches at the University and also through our outreach sites at Saltford Tennis Club, Wellow Valley Tennis and Monkton Prep School.
"There will be ten spaces available at each venue for people to book on a first-come-first served basis. These will be released in April on the LTA website. After the courses, players will receive their brand-new racquets and a follow-up offer of tennis to hopefully create a sport for life!"
Pictured top are (from left) Matt Smith, Head of Club Coaching at Team Bath Tennis; Anne Keothavong; Davis Cup captain Leon Smith; and Team Bath Director of Tennis Barry Scollo