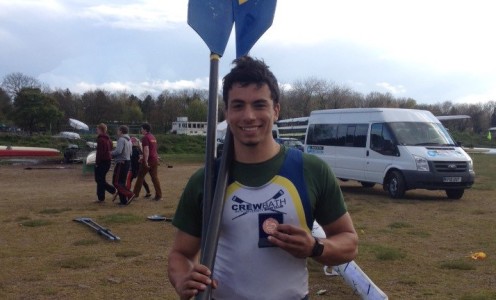 University of Bath Boat Club rowers won three medals and narrowly missed out on three more when they competed in the 2016 BUCS Regatta at the National Water Sports Centre in Nottingham.
Laura Macro won gold in the lightweight women's intermediate single scull, while fellow regatta debutant Henry Young was first home in the beginner men's single.
Mechanical Engineering student Tom Mapp (pictured) won bronze in the intermediate men's single and finished fourth in the championship men's double with Goldsmith Sports Scholar Nick Bell.
They were just off the podium in the championship men's quad too with Alex Clark and Will England, while Macro and Carlotta Broglia were also fourth in the women's lightweight double.
A number of the rowers train with the GB Rowing Team Start talent ID and development programme at the Sports Training Village, which is overseen by coach Dan Harris.
He said: "It was a good set of results with a much newer set of athletes than we have had in the last couple of years.
"It was great for Tom to get his first individual medal racing at this level after he training really well with the GB Start group this season.
"For Laura and Henry to both pick up wins at their first ever BUCS Regatta was fantastic. Both of them raced really well in tough conditions and were deserved winners.
"Henry only started rowing in September after being selected for the Start programme and won his beginner singles race by four seconds.
"It is very promising knowing that these athletes all have at least one more year left at university, so they will all be back at BUCS next year. They also have an exciting summer of national races ahead of them."