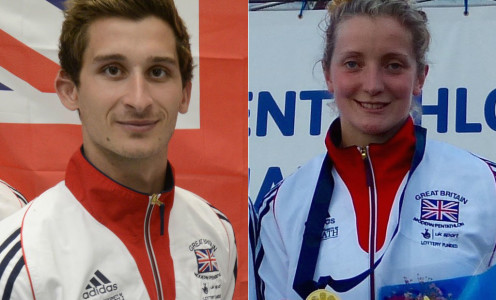 Pentathlon GB's Jamie Cooke is hoping it will be déjà vu all over again when he goes looking for more Rio 2016 Olympic Games qualification points at this weekend's World Cup Final in the United States.
Cooke enjoyed a timely confidence boost when he had 'one of those perfect pentathlon days' while winning World Cup gold in Kecskemét, Hungary earlier this month.
It was his second success in Kecskemét, with his other World Cup victory coming last year in Sarasota – the Florida city that will host the World Cup Final from May 6-8.
"Not many people have won three World Cups and the Final is in Sarasota where I have done well in the past, so it should be good fun," said Cooke, who will be joined in Florida by University of Bath Biology graduate Freyja Prentice as she contests the women's competition.
"There are important qualification points on offer. I have a ninth place from last year's European Championships and the win in Hungary, so I just need one more good competition to set the standard."
Former World Junior Champion Cooke was 19th at the Olympic test event in Rio earlier this year and then finished 24th at the Rome World Cup after being unseated in the ride.
But he was back to his best in Hungary as a series of impressive displays in the swim, fencing and ride set him up to take the win in the combined run/shoot.
"I was incredibly pleased – it was one of those perfect pentathlon days where the five sports all just come together," said Cooke, who – like his Pentathlon GB team-mates – trains at the University of Bath Sports Training Village.
"It was almost like déjà vu because it was the same volunteers and same judges as when I won in Hungary in 2013. It was one of those times when it clicked and I got the tactics just right.
"It was the last World Cup of what is obviously a huge, huge year so it has given me a massive confidence boost and strengthened my faith that we are on the right track.
"The first question after a perfect day is 'how did you do it?' and I'm not really sure. It's just following the same process and hopefully the outcome will take care of itself.
"Fencing has always been the challenge for me but huge credit to my coach [Marian Gheorghe] who has stuck with me as it's starting to work. For me to have positive fences in three successive World Cups is quite a rarity!
"The ride was fantastic too. It was a really good horse but a Russian athlete had a bit of a nightmare on him earlier. It was quite clear you had to be very subtle and very soft with him but that suits my style of riding.
"We had one pole down but it was a massive victory for me to get that horse round, especially after falling off in Rome – that had knocked a little confidence out of me."
Both Cooke and Prentice begin with the fencing ranking round today (Thursday), followed by the women's final on Friday and men's final on Saturday.