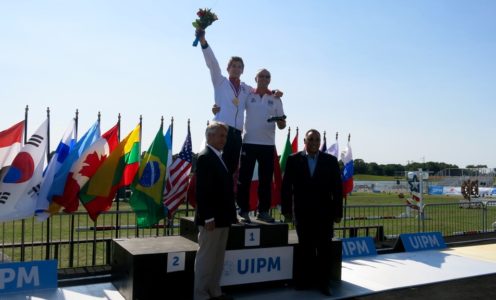 Pentathlon GB's Jamie Cooke gave his chances of Rio 2016 Olympic Games qualification a significant boost when he became the first British man to win gold at the UIPM World Cup Final in Sarasota, Florida.
It was the University of Bath-based athlete's second international success in a month, following on from his World Cup victory in Kecskemét, Hungary.
Biology graduate Freyja Prentice also claimed a top-six finish in the women's competition in the United States during an encouraging weekend for Pentathlon GB ahead of the World Championships at the end of May.
Former World Junior Champion Cooke enjoys competing in Sarasota, having won World Cup gold there in 2015, and got his latest campaign off to a strong start with another positive fencing result.
After winning 18 of his 35 bouts and producing the second-fastest 200m freestyle time in the swim, Cooke went into the ride in fourth place.
A cool, calm and collected clear round on the grey gelding, Hannover MCN – a sensitive horse that responded to Cooke's quiet hands and seat – secured the maximum 300 points from the discipline and moved him into the top three for the combined run/shoot.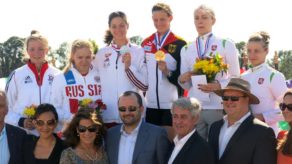 A blistering time of 11:12 in the last event saw Cooke overturn an 11-second deficit on the previous leader and claim a crucial win in his bid for Olympic qualification.
"It's been a perfect day," he said. "With my last green light [on the shoot] I thought 'this could be in the bag' but it wasn't until the last couple of corners I actually realised that I was going to do it."
Prentice, meanwhile, made a good start in the fencing and was placed ninth after winning 20 of her 35 bouts.
She was disappointed with her swimming time of 2:26.04 but Prentice showed her riding skills by only picking up one time fault, moving her up to 11th for the combined event.
Prentice then worked incredibly hard and shot accurately to come over the finish line in 12.25, securing an impressive sixth place overall.