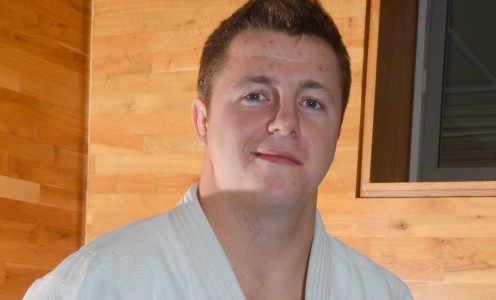 Team Bath Judo's Ben Fletcher will find out for certain in the next two weeks whether he has qualified for the Rio 2016 Olympic Games.
Fletcher wasn't able to reproduce the form he had shown while finishing a career-high seventh in Azerbaijan the previous week as he was beaten by home judoka Viktor Demyanenko in the first round of the men's -100kg competition at the Almaty Grand Prix in Kazakhstan.
But despite the setback, Fletcher – coached by Juergen Klinger at the University of Bath – retains the first of two European continental quota places for Rio ahead of the Olympic qualification period closing on May 30.
There is just one tournament remaining before then, the invitation-only Masters 2016 in Mexico, and for Fletcher to miss out now would require the two European judoka directly below him in the rankings –Estonia's Grigori Minaskin and Croatia's Zlatko Kumric – to not only take part but both win bronze medals at least.
While Fletcher looks to be on course for Rio, there was heartbreak for training partner Emmanuel Nartey as he was denied an African continental quota place at the death.
A -73kg second-round defeat to Dirk Van Tichelt of the Netherlands in Almaty meant Nartey – who has held the quota place all year – was only able to add two points to his qualifying total.
That allowed compatriot Szandra Szogedi to claim the sole qualification place for Ghana by scoring 36 points in the women's -63kg tournament, pipping Nartey by just 14 points overall.
University of Bath Orthopaedic Biomechanics PhD student Jan Gosiewski and Business Administration graduate Tom Reed both suffered first-round defeats in Almaty, in the -73kg and -81kg weight divisions respectively.
Former Team Bath judoka Andrew Burns lost in the second round of the -90kg competition but fellow University of Bath graduate Gemma Gibbons produced Britain's best result of the weekend, fifth place in the -78kg category.