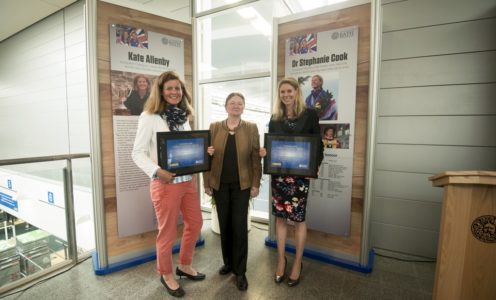 The glorious past, exciting present and bright future of modern pentathlon was celebrated at the University of Bath on Wednesday when Dr Stephanie Cook and Kate Allenby were welcomed into the Hall of Fame for Sport.
The current Pentathlon GB athletes training towards the Rio 2016 and Tokyo 2020 Olympic Games were among those watching as Sydney 2000 champion Cook and bronze-medallist Allenby were officially inducted by Professor Dame Glynis Breakwell, Vice-Chancellor of the University of Bath.
"I think the current crop of pentathletes gathered here today need look no further for two more high-achieving and altruistic role models than Kate and Stephanie," said Dame Breakwell in her welcome speech.
"They were quite simply the best of the best and they did themselves, the nation and us here in Bath proud.
"We are proud of our pentathlon tradition at the University of Bath and we know our multi-sport facilities are envied by other nations. We also never cease to be amazed by the sheer brilliance of our current athletes."
Cook wrote her name into the record books on October 1, 2000 when she won the inaugural women's modern pentathlon Olympic gold medal, famously recovering from a 49-second deficit in the final running event.
That also made her the first person to be crowned as an Olympic champion while training at the University of Bath, the site of Pentathlon GB's national training centre since 1996.
Cook retired in 2001, the same year she was awarded an MBE, after becoming one of the few British athletes from any sport to hold the World, Olympic and European titles at the same time.
Her legacy is still felt strongly in Bath thanks to her significant campaigning work with the University for funding and planning permission to build the Sports Training Village.
A qualified general practitioner, Cook was awarded an Honorary Doctor of Medicine Degree from the University of Bath in 2008.
"It is an absolute delight to be back in Bath, I had such a great time living and training here," said Cook, who will co-commentate on modern pentathlon in Rio for the BBC.
"It is a real honour and privilege to be inducted into the Hall of Fame. It is great to see how the sport has gone from strength to strength over the years and I'd like to wish the current athletes all the best at the World Championships next week and in Rio."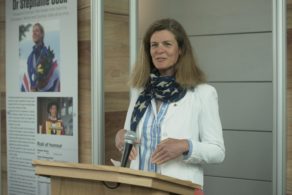 Allenby also produced a landmark performance in women's sport when she won the European Championships in 1997.
She added the World Cup Final title a year later and ensured there would be two Brits on the podium at Sydney 2000 when she won Olympic bronze behind Cook.
A double-gold winner at the 2001 World Championships in the team and relay events, Allenby also won individual bronze in 2003 and silver in 2004 before bringing the curtain down on her illustrious career with a second World Cup Final title in 2004.
Allenby – a key member of the British Athletes' Commission after retiring – has a Masters Degree in Philosophy but retrained as a PE teacher and has contributed to the development not only of her sport but also to the local community in Bath and at the University.
"I feel honoured and proud to receive this award," said Allenby, who was awarded an MBE in 2007 for services to sport.
"Hopefully youngsters will come into the Sports Training Village, look at the Hall of Fame display and be inspired by what they see. If just one child makes sport part of their life because of it, then it has been successful."
Top picture: Kate Allenby (left) and Dr Stephanie Cook (right) are welcomed to the University of Bath Hall of Fame for Sport by Vice-Chancellor Professor Dame Glynis Breakwell