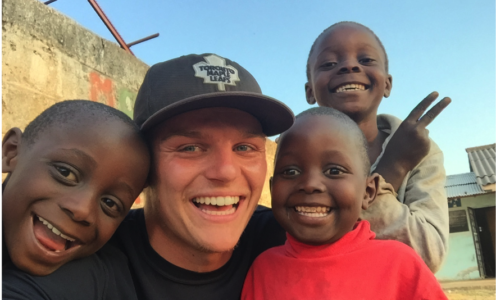 University of Bath students are once again preparing to fly out to Africa to take part in the Zambia IDEALS project.
It is the 11th summer that students from Bath have participated in the scheme, which sees them work in a sports development and coaching capacity at the heart of local communities in the Zambian capital of Lusaka.
BSc Sports Performance student George Lavender took part last year and is returning to Zambia this summer as a Programme Coordinator, overseeing the Wallace Group IDEALS Project and more than 30 students from seven UK universities.
We caught up with George to find out more about the IDEALS project and what this year's students can expect to gain from the experience…
George, great to catch up, tell us about your role this summer… 
"This year I'm sure will be very different to my role last year. Being a Programme Coordinator involves making sure all students are having the best time they possibly can through my support and gaining the most from the opportunity. My role will be making sure they are happy at their placement sites within the city of Lusaka, working in the community of different compounds around the city in mostly deprived areas.
"I will be visiting all the volunteers at their compound sites, working with them and making sure that if they have any problems I'm there to support and help them from my own experiences. In comparison to the UK, delivering sessions in Lusaka can be a shock and difficult for some volunteers to adapt to. Also I will be planning different activities for the volunteers to do at the weekend to embrace the real Zambian culture and have the best and most memorable time they can whilst there."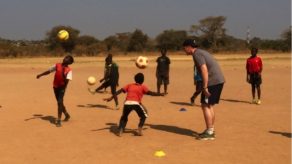 You spent six weeks in Lusaka in 2015, what are you most looking forward to upon your return?
"It difficult to say one specific thing as there are too many. I would mostly have to say the people as these people are incredible and some of the things you experience and witness do stay with you for life, that is for sure. Some live in communities that have high levels of poverty but one thing I noticed in every compound I visited was that all the children were happy and smiling even though they have pretty much nothing.
"I'm also looking forward to making an impact again and that is something which is the main aim of the project, to use our skills and work with the locals within the Zambian communities to make a difference, improve different factors and help the children develop life skills through the power of sport. It's very hard to put into words what it's like because it is so unique and amazing – to be honest I could literally talk about it for days."
Keon Richardson and Matt Mellor, both BA (Hons) Sport & Social Sciences students, are due to depart for Zambia soon. What advice would you give them in delivering coaching session in an unfamiliar environment and out of their comfort zone?
"I have already said to the two lads, just enjoy every minute as the six weeks feels like six days. It goes so quick and you never know if you will get the chance to return to these communities again. I know it sounds cheesy but it is very true – what you put into the programme you will definitely get out.
"I would also tell to them just relax and use the support of the peer leaders that live in the local area and work with the children to find your feet, then you can add your own style to the sessions which are beneficial to the children. Also don't be scared to try something new and adventurous as it is sometimes the best method, especially when coaching in such a unique environment where things can happen out of the blue such as bulls running across where you are delivering a session. You won't coach anywhere like it again, where the equipment is limited and the surroundings are so unusual but at the same time incredible."
The University of Bath will soon be recruiting students for the Summer 2017 IDEALS project. What skills and attributes do you feel are important to succeed?
"Key skills would include a coaching background and ability to adapt, the personality to engage with new people and a strong character. I think it's important to remember it's not just looking for a coach who can deliver in the UK with all the support and equipment. It's someone who shows they can deal with difficult situations but also a culture change.
"They need to understand that the project is not just about delivering session in the communities to children but also living in a new and very challenging environment with people you do not know, where the food is different, there is no Wi-Fi and sometimes no water for showers. All these factors need to be considered."
Finally, how do you feel four months in this role will shape your personal development and future aspirations?
"That is difficult to answer as you can never predict the future. I never thought I would go to university but now I'm about to graduate and spend four months in Zambia.
"I think it will certainly make me reflect on what is next for my future and will hopefully open my eyes to the next step I will take on my path. I have a few ideas at the moment and I certainly believe this experience will make me understand what I want to achieve and do next for myself.
"From a personal development point, the role and experience will certainly give me challenges which I will face and look forward to dealing with but the main personal skill I believe I will develop and learn is how to deal will different people, personalities and situations which may occur.
"I certainly am excited as the day of leaving for this adventure is fast approaching. There are some nerves about my time ahead, including missing my family and friends, but on the other hand I'm buzzing to go back to the country I love and doing something I love. I can't wait to support this year's volunteers and help them have the same experience I had in what is an amazing country with amazing people."
For those students looking to embrace a challenge while at the University of Bath, expressions of interest for the Summer 2017 IDEALS project are now being taken. Contact s.mcmillan@bath.ac.uk for more information or visit http://www.wallacegroupuniversities.com/